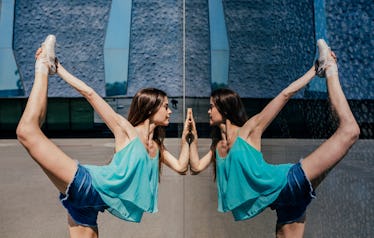 The Girl Who Grew Up Dancing Can Seriously Relate To These 12 Things
The quickest way to spot a dancer in a crowd is by shouting, "Five, six, seven, eight." You'll immediately know who used to spend their days pointing their toes, rocking leotards and sparkly tutus, and perfecting their pliés by whoever perks up like they're about to start a routine. Even if you haven't been to a class in years, you will forever be a dancer if you grew up dancing. It's ingrained in your heart, just like that turnout you worked so hard to master.
My days doing ballet, tap, jazz, and contemporary dance classes molded me into the person I am today, and I'm not just talking about my flexibility. It's in the way I walk, do my hair, schedule my time, and even do my makeup every morning. I got it all from being a dancer. Some days, I forget where I just put my keys, but I will never forget my jazz competition routine from over 10 years ago. It's a special part of my life that'll always be with me.
So, I hope you've warmed up properly, because we're about to get into these 12 things that all of us can relate to, having grown up dancing.