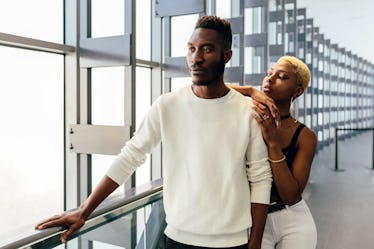 If The Passion Is Gone From Your Relationship, You'll Notice These 4 Things
Passion is a fickle fellow in relationships. At the start of something new, its presence is undeniable, constant, and seemingly ever-growing. The smallest interactions with someone feel explosive. A casual brush of their hand on your lower back feels electric. Over time, however, as you become more comfortable together, that fiery brand of passion tends to naturally calm down somewhat. But how do you know when the passion is gone from your relationship completely? And what do you do about it?
First, let's define what passion looks like in a relationship. In 1986, social psychologists Elaine Hatfield and Susan Sprecher published a report in the Journal of Adolescence outlining a Passionate Love Scale that details a number of important qualities for measuring it. According to Hatfield and Sprecher, the cognitive components of passion include being preoccupied with thoughts about your partner and idealizing them and/or your relationship. The emotional components include feeling good when things go well in your relationship and feeling bad when things go badly, being sexually attracted to your partner, and wanting a complete and permanent union. Lastly, the behavioral components of passion include trying to figure out how your partner feels, providing service to your partner, and being physically close to your partner.
Obviously, passion is a lot more complicated than mere lust, because it encompasses much more than sexual attraction. Concerned that your relationship may be suffering in this department? According to relationship and etiquette expert April Masini, you might want to keep a lookout for these common signs that it's time to recapture the passion.