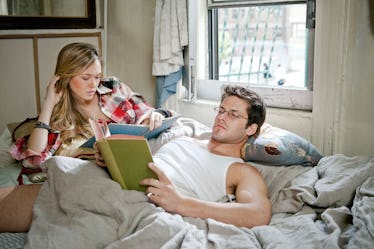 4 Signs Your Relationship Is Suffering From A Lack Of Effort, Because It Can Sneak Up On You
No matter your relationship status, you've likely heard the term "honeymoon phase" at some point. In short, the honeymoon phase is the first phase of a relationship during which both people are obsessed with each other and want to spend all their time together. But sadly, it doesn't last forever. After the honeymoon phase comes real life, which, while sometimes described as even better than the honeymoon phase, can cause you and bae to tone down the passion. But there's a difference between emerging from the honeymoon phase and the signs your relationship is suffering from lack of effort.
It's important to recognize that getting past the honeymoon phase doesn't always go hand-in-hand with less effort being put into a relationship. When you're past the honeymoon phase, you're still in love and happy together — you can just manage to keep your hands off each other for more than 20 minutes. When your relationship is suffering from lack of effort, however, you might feel like your partner does not care enough to continue working on your relationship. You might not necessarily be right, and it could just be that bae does care but doesn't quite know how to express it, or believes you already know how they feel, so they don't have to try as hard. Every relationship is different, and while it's normal to deal with some level of comfort in a relationship, you shouldn't feel like your partner doesn't care about you.
If you want to address this newfound, perceived lack of effort, knowing the signs that your relationship could use a boost might help. Here's what experts say to look out for that might mean you should start a conversation.