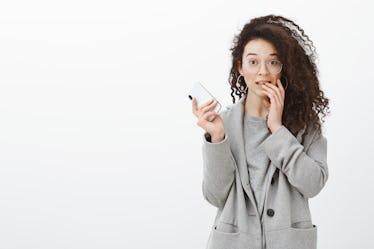 9 People Reveal Their Most Awk Text Convos With Crushes & You'll Cringe
Shutterstock
When you're flirting IRL, a potentially weird moment can seamlessly become a super cute memory. With a playful hair flip or a sly smile, it can be easy to laugh off a joke that didn't land or a word you mispronounced. Of course, when texting comes into play, bouncing back from wording something wrong or saying something weird can feel totally daunting. So if you've ever felt like texting your crush is awkward, you're certainly not the only one.
When you don't know someone well, you may worry about how they're going to interpret your jokes or that they'll read a little too into your messages. Texting your crush can mean overthinking your words and feeling self-conscious about your sense of humor. Of course, you never need to censor or tailor who you are to fit the person you like. Though nervousness and awkward feelings are something everyone encounters from time to time, the right person will never make you feel bad for being who you are.
From sending a message to the wrong person to totally misreading the real meaning of a text, these eight stories about awkward texting will surely make you feel better about all the awkward encounters that have happened in your own inbox.