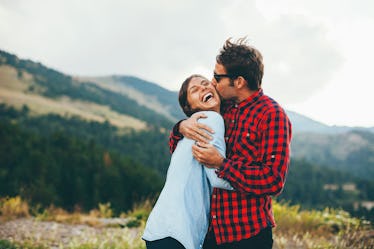 If Someone's In Love With You, They'll Probably Do These 3 Things
Figuring out if a new partner is falling in love with you isn't always a super easy process, because sometimes, actually vocalizing it can be hard. Fortunately, when someone's in love with you, you'll probably notice some shifts in their behavior, even if you're still waiting to hear those three "little" words. Although not everyone is willing to put their feelings out there before they feel totally confident they're reciprocated, it's not uncommon for signs of their true feelings to fall through the cracks. According to NYC-based relationship expert and love coach Susan Winter, as feelings grow, it's normal for behaviors to shift.
"Your partner's behavior will noticeably change once they're in love," Winter tells Elite Daily. "On the downside, they may be more reactive and territorial. On the upside, they'll be more generous, thoughtful, and you'll experience a greater sense of inclusion and involvement." When someone truly loves you, it only makes sense they're going to want to be involved in your life as much as humanly possible. Suddenly, tasks that may have felt like too much effort early on can start to feel like a normal part of their relationship duties, says Winter. If your new bae is doing the following things, they just might be in love with you.