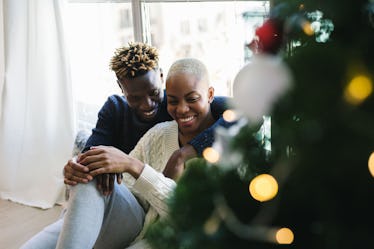 5 Tips For Spending Your First Christmas With Your SO's Family, Away From Your Own
There can be many exciting "firsts" in a relationship — the first time you leave a toothbrush at your honey's place, the first time you say, "I love you," and the first time your cat deigns to sit on your partner's lap. (OK, maybe the last one is specific to me, but it's still a BFD in my world!) Meeting your partner's family is also a pretty big deal, and since the holidays are upon us, you just might be spending your first Christmas with your significant other's family this year. Whether your own family gathers to celebrate the holidays together or not, being included in your boyfriend or girlfriend's family holidays is significant — but don't stress!
While navigating family dynamics and holidays pressures can be tricky — as evidenced by almost every Christmas rom-com ever — the important thing to remember is that you and your bae wanted to spend the holidays together and that's a great thing. When it comes to dealing with this big "first," I spoke to Maria Sullivan, Dating Expert and VP of Dating.com, who says, "When the ones you love the most are out of reach during the holidays, you'll need find ways to fill the void. There are a few simple ways to tackle holiday blues and have you feeling at home — even at your significant other's home." So while you're packing your bags with festive sweaters, holiday pajamas, and plenty of gifts, don't forget to take these tips with you, too.