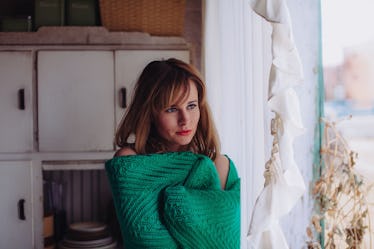 5 Steamy Hacks For Building Intimacy When It's Just Too Darn Cold To Have Sex
During the winter months, I'm all about spending as little time as possible outdoors, eating warm comfort foods, and perfecting my layering game. If you're on my winter wavelength and are in a relationship or are spending time with a casual partner, you might decide to bundle up, order delivery, and watch some Netflix instead of getting your sexy on. So if it's simply too cold to have sex, don't worry because there are many other ways you can be intimate and close with your honey without freezing your pretty buns off.
Winter is a good time to hibernate and hibernating with someone you like is kinda the whole point of cuffing season! But when it's truly so cold out that you and your partner both want to keep your clothes on, it's time to get creative. Remember that intimacy and closeness can be just as alluring as actual sex, so even if you don't hook up, you can still keep things super hot. That's not to say that you can't have a satisfying and steamy sex life during the winter — in fact, some sexual positions and moves are just tailor-made for the season! But for those chilly nights where you want to be close to your boo, try these steamy, sexy tricks.