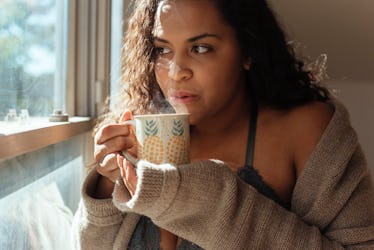 If Fighting Always Leads To Breaking Up, You're Probably One Of These 3 Zodiac Signs
All relationships have their ups and downs. The occasional argument, tense moment, or even, yes, a full-fledged fight, can be a totally natural and healthy occurrence in every relationship. But if you've noticed that in your past relationships, fighting always leads to breaking up — your zodiac sign may have something to do with it. When it comes to unpacking love, studying your zodiac sign can be super insightful. From knowing how you best communicate to understanding the ways you express and receive love — astrology can factor into all aspects of a relationship, especially when it comes to disagreements.
According to astrologer Cindy Mckean, the ram, bull, and goat, (also known as Aries, Taurus, and Capricorn) are likely the signs to take relationship fights super seriously. Like, consider ending things seriously. "The horned animals zodiac signs win this round!" Mckean tells Elite Daily. Of course, every relationship and relationship fight is different, and no matter your sign, you know what's right for you and your boo — every step of the way.
Still, if you have noticed that in your past relationships fights always tend to lead to breakups, it's likely that you may be an Aries, Taurus, or Capricorn.