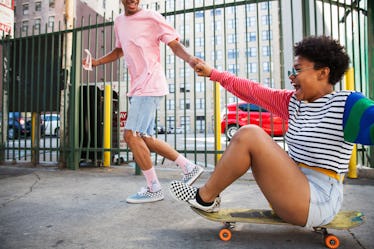 4 Zodiac Signs To Date If Acts Of Service Is Your Love Language
Stephen Zeigler/The Image Bank/Getty Images
What's that old proverb about actions speaking louder than words? Big presents and fancy dinners can be nice, but those gestures certainly aren't the only way to express real affection and care. If your love language is acts of service, someone offering you a helping hand may be the fastest way to your heart.
If you've always been a little more "show" than "tell," you may already know the importance of someone walking the walk over talking the talk. Dependability is hot. And knowing that you can always rely on your special someone to really show up for you is a game changer. Though acts of service may be your go-to, it's important to remember that you can have more than one love language. Love is an all-you-can-eat buffet.
While astrology can't dictate everything, it can be fun to consider how the stars inspire different personality traits. And if you're looking for someone to show that they care by offering help and going out of their way for you, knowing which signs are drawn to acts of service can be super insightful.
Here are the four zodiac signs that prioritize acts of service, so you know who to keep an eye out for.