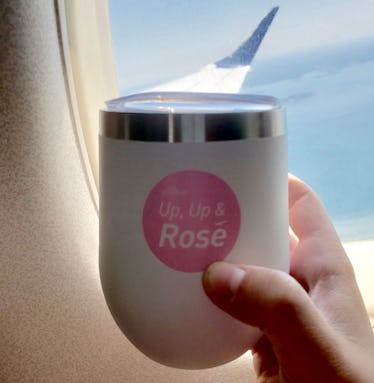 I Went On JetBlue's Up, Up, & Rosé! Wine Tasting & Sipped In The Sky
Lizzy Rosenberg
I'm going to go ahead and assume that most people love to travel, but I understand that not everyone loves flying. However, I'm somewhat of an anomaly; I thoroughly enjoy air travel. I like the idea of cruising through the clouds at 3,500 feet, I'm a major advocate free refreshments, and most importantly, I love to hate the people that clap at the end of the flight. But after going on JetBlue's Up, Up, and Rosé! wine tasting, I'm certain that I experienced the best plane ride ever, and it's definitely going to be hard to top it. I've come to realize that there's truly nothing better than a flight that involves sipping wine in the sky.
JetBlue's Up, Up, and Rosé! flight took off for Charleston, South Carolina, on the first day of summer — June 21, 2018 — and it started out like any other flight. I boarded the plane along with 60-something other passengers, I was greeted by a pack of super friendly flight attendants, and, as per usual, I accidentally sat in someone else's seat before realizing I was doing so. You know, run-of-the-mill boarding activities. Upon arriving at my seat, I noticed that each passenger received adorable JetBlue tote bags, which were filled with Up, Up, and Rosé! branded wine tumblers. Once the refreshment cart passed, the fun officially began.
After getting my fix of free pretzels and Diet Coke, the flight attendants started handing out mini bottles of Famille Chavin Duc de France 2016 Rosé and a cheese board to any and all passengers participating in the tasting. A flight attendant announced over the intercom that "Up, Up, and Rosé is to kick off summer solstice," so Thanksgiving can move over. It looks like summer has stolen the prize as my number one favorite holiday.
After getting situated with my pink drink (and enough dairy to last me a lifetime), the flight attendants went on to introduce JetBlue's in-house wine expert, Jon Bonné. Bonné curates the wine selection for JetBlue's MINT program, which includes JetBlue's premium dining package. He is also the author of The New Wine Rules, worked as the Wine Editor and Chief Wine Critic of The San Francisco Chronicle for several years, and has written about wine for several renowned publications. Once he told passengers a little bit about his history with vino, he announced that he'd be conducting "the world's most informal wine tasting... ever." Needless to say, I was stoked.
Before making his speech, Bonné doled out a list of his own wine rules, and they're definitely good to keep in mind for future rosé sessions. A few of my favorites included "Drink the rainbow," "Don't be intimidated by wine jargon," and "You can drink rosé any time of year." These are definitely some wise words to live by, my friends.
Aside from his wine rules, though, Bonné said he doesn't like telling his audience how wine should taste. He said the taste of wine is relative to the drinker, and that it's not "supposed to taste" any certain way. Bonné thinks Famille Chavin Duc de France 2016 tastes like strawberries with floral notes. Like many rosés, I also tasted fruit, flowers, and, of course, lots of love. Trust me: Looking out into the clouds while sipping it definitely added some pizzaz.
Per Bonné, JetBlue tries to select wines with a little added sweetness, and that's not because he's looking for a sugar rush. The wine expert explained that wines lose sweetness with altitude, and become exponentially dryer in-flight. He also explained that altitude affects your ability to taste sweetness. While they label many wines as "dry" on the menu, said wines aren't necessarily that dry when tasted at ground-level. Therefore, dry wines don't taste as good while in the air. This is why rosé is such a good choice to taste in-flight. When you taste it on board, it doesn't taste sweet, but pops a little — and that's essentially what they're looking for.
It turns out that JetBlue has quite a history with rosé. JetBlue actually became the first domestic U.S. flight to offer the pink drink 2015... and you have Bonné to thank for that. He encouraged them to put it on the menu, and after several years, it's remains extremely popular. A representative from JetBlue explained that they have hopes to do this again next year, and they plan on having more drink promotions and tastings like these. But until then, cheers, and safe travels!