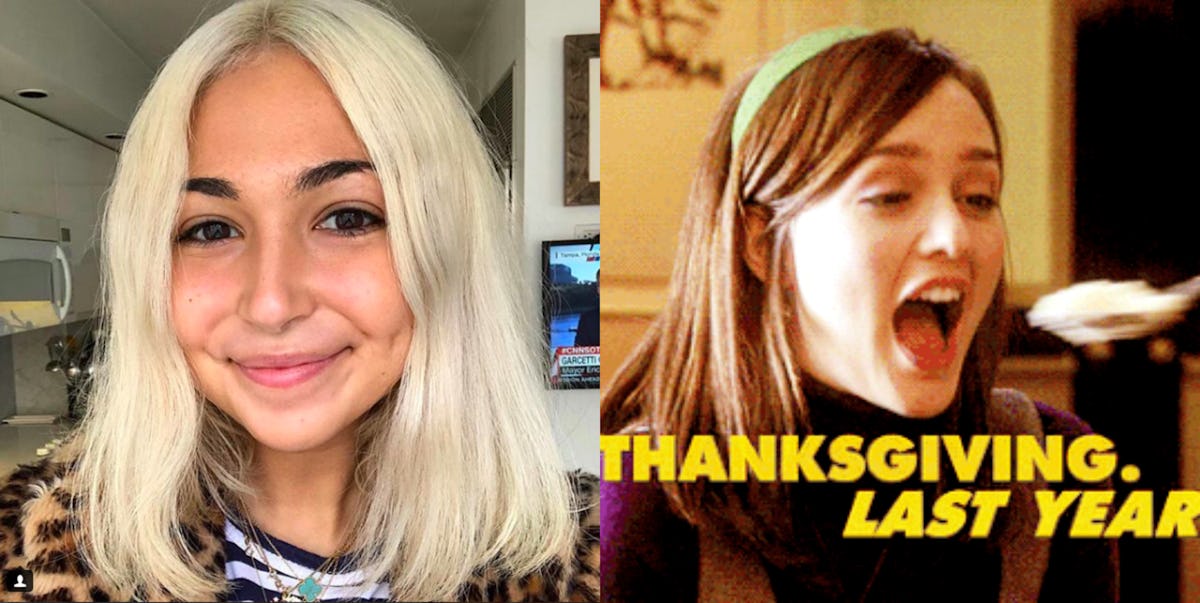 The Reason I Watch The 'Gossip Girl' Thanksgiving Episode Every Year & You Should, Too
Courtesy of Iman Hariri-Kia / Giphy
As a first generation American, I'm aware that my version of Turkey Day is somewhat nontraditional. There's a focus on décor, for one: Each year my sister and I flock to Central Park in hopes of discovering the perfect pinecones to flourish the table. The dress code is another: My mother dresses up like the queen of Sheba, and if she can smell denim from a distance, refuses to feed you. Finally, the kitchen is a kid-free zone, so instead of pie baking and cider drinking, I retreat to my room watch the Gossip Girl Thanksgiving episode from 2007, "Blair Waldorf Must Pie." Sure, there's gravy, and stuffing, and my aunt gets as s'mashed as the potatoes. But there are also these tiny abnormalities that make my Thanksgiving feel distinctly foreign. Hey, whether it's watching football with your drunk uncle, or artfully removing the cranberry sauce from the can and into a bowl, everyone has their own Thanksgiving traditions!
My love for the season one Gossip Girl Thanksgiving episode knows no bounds. It's not even because, as a born and bred New Yorker, the gorgeous shots of the city speak to my inner soul — although they totally they do. I love watching accurate depictions of a Chinatown Thanksgiving, or catching familiar shots of Upper East Side streets, the neighborhood I now reside in. This homage to the city is welcomed visual candy, a treat for the eyes and nourishment for the soul — but not my reason for watching.
I don't even press play for the superb soundtrack, culminating in the iconic closing sequence of the Humphrey family playing football in Prospect Park (@Jenny, seriously, what were those sneaker flats you were wearing?! I'll never get over those) as Vanessa Carlton's "Nolita Fairytale" blares in the background, perfectly capturing the energy of the city. The song that singlehandedly made me a life-long fan of Carlton and gave me the everlasting ability to romanticize living in the neighborhood of Nolita. It's a near-perfect moment, but again, not what compels me to my computer screen each year.
I watch the Gossip Girl Thanksgiving episode every year, because it gives me hope. The episode functions as a series of heartbreaking flashbacks, comparing the holiday to that of the previous year. In this episode, while Blair Waldorf spent last year's Thanksgiving baking pie with her father and celebrating with her family all together, she spends this year's Thanksgiving confronting the reality of her parents' divorce, and experiencing a bulimic relapse. While Nate Archibald spent last year's Thanksgiving attending the Waldorf's dinner with both of his parents, he spends this year's in the hospital after his father overdoses. While Serena van der Woodsen spent last year's Thanksgiving in a drunken daze with friends, she spends this year's Thanksgiving with both her family and her new boyfriend, Dan. And finally, while Dan spent last year's Thanksgiving with his happily-intact family, pining after his dream girl, Serena, he spends this year's Thanksgiving with his newly fractured family, as well as his now-girlfriend, Serena.
This resonates with me, because I feel it's something that many of us do intuitively: Compete with older versions of ourselves to do and be better. But the truth is, we'll always look back and select something that we believe we could have done differently. This episode paints that reality with empathy and love.
The episode also doesn't idealize the American household on Thanksgiving, but rather, captures the intricacies that come with complicated family dynamics around a day that's meant to focus on gratitude for what you have. The show gives us quick but effective vignettes of families that appear to be flawless from the outside, but who internally, are just doing the best they can. One family struggles with realities of addiction around the holidays, another tackles how difficult Thanksgiving can be for someone with a history of disordered eating. Divorce, mental health, and sexuality are all on the table in this episode, but instead of leaving us with some sort of convoluted takeaway about messed up families, the show-runners present each family unit as is, allowing the audience to make of it what they will. The message is clear: No family is perfect, even on Thanksgiving. And, for lack of better words, everybody has their own sh*t.
Gossip Girl then combats the internalized feeling of loneliness over the the holidays by displaying different acts of understated, but unconditional love. Eleanor Waldorf opens up to her daughter, Blair. Howard Archibald literally comes clean to his son, Nate. Rufus Humphrey reconciles with his wife, Alison. Siblings like Dan and Jenny Humphrey or Serena and Eric offer each other a shoulder. Friends like Blair and Serena, who abandon their given family for their chosen family.
It's by no means radical, but there's a truth to these small gestures that resonates with viewers. But perhaps the most moving depiction of love, and the reason I truly come back to watch year after year, is that of true love. The kind of love that sees you even when you're too blind to notice it. The kind of love that waits for you, until you're ready to let it in. The kind of love that remains steadfast, even as you change.
The episode reveals that protagonists Dan and Serena met briefly on Thanksgiving, last year — although the latter was too drunk to remember. Out of sorts and exiting a bar, Serena is shown stumbling onto the street in a daze. Dan, serendipitously on the same street picking up pumpkin pie (side note: were there not closer pie shops in Brooklyn?), comes completely transfixed by, as his little sister describes, his dream girl. When he sees a taxi charging at Serena, he dives to save her life, as the pie splatters on the concrete. A year later, the two are sharing their first Thanksgiving as a couple.
Why does this matter so much to me? It's not because I'm obsessed with the characters of Dan and Serena, as any fan of show will know that they are both deeply flawed. It's the sentiment: It's this idea that love can find us when we least expect it, or it might be right in front of us without our ability to see it. Its the possibility of a love that sees past the person you might have been and the family you might come from. It's both the concept that maybe someone you crossed paths with on the street could be your soulmate, and the potential that a new year brings: 365 days for your life to completely transform. It gives nuance to Turkey Day, and a new reason to practice gratitude while devouring your meal.
I watch the Gossip Girl Thanksgiving episode every year because it reminds me that while my family may not be the all-American norm, that no family is perfect. It encourages me to stop comparing my present to my past. It inspires me to perform random acts of love and kindness to those who mean the world to me. And above all: It gives me hope — hope that perhaps, even on a day infamous for drunken fights over politics and an explicable feeling of loneliness — that love can conquer all.
Also, Serena's leopard coat. She totally started the animal print trend.