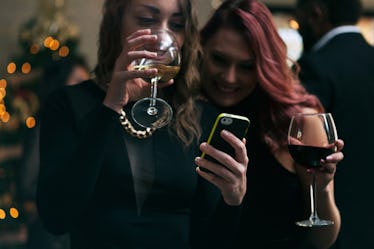 3 Ways To Be Less Lonely Over The Holidays & Meet New People By Using Tinder
This year, I'll be spending Christmas alone, which has given me a really bad case of the holiday blues. Seriously, I walk around half-heartedly crooning Elvis Presley's "Blue Christmas" at least three times a week now. To be fair, this isn't my first Christmas alone but my third (no, not consecutively) and I feel confident I can find creative ways to be less lonely this year. And so can you.
First up, let's talk about dating apps. I know, I know, you've tried them all. But have you really given dating apps a fair shot? I've met a lot of pretty cool people on Tinder by doing the wackiest things like posing in ugly Christmas sweaters in all of my photos.
Believe it or not, some people actually mean it when they say in their bio that they're looking to meet new people. It's not just a line. Remember, you're not the only one dreading a lonely Christmas Eve or, worse, a kiss-free New Year's Eve. If you're worried about being alone for the holidays, I recommend giving dating apps another chance just as long as you do these three things.
1. Be really honest in your dating app bio.
If you're only in town for a few weeks and you just want someone to do festive things with, write that in your bio. You never know when speaking your mind will land you a Tinder date who wants to go caroling with you or bring you a pizza in the middle of a blizzard.
Currently, my bio reads, "What are we doing for New Year's Eve?" because truthfully, I have no plans and I'd really like to change that. The beauty of online dating is that you get to personalize your experience based on your wants and preferences. So why not use it to your advantage to solve a very personal problem? Let potential matches know exactly what you're looking for and why.
2. Don't take yourself too seriously.
Don't put too much pressure on yourself to lock in The One before Christmas. Instead, try messaging your matches with opening lines from The Grinch or your favorite holiday song to keep things fun. Chances are they'll appreciate your unique conversation starter and want to get to know you better.
Particularly if you're only in town for winter break, don't wait too long to meet up with them in person, either. Once you're pretty much convinced they're an actual person and not a bot (or a serial killer), ask them if they'd like to meet you for a Santa-themed bar crawl or to go ice-skating. Proposing a fun date idea increases the likelihood of them saying yes so don't hold back.
3. Go out with people you wouldn't usually go out with.
Some of the best dates I've been on have been with people I met on Tinder whose paths would have never crossed my own in real life. If you come across someone with an interesting hobby — like the guy I recently matched with who likes wearing onesies in public — let them know you'd like to hear more about it and that you're looking to try something new. An app like Tinder that can connect you with people anywhere in the world would be wasted on the same types of matches all the time. Step out of your comfort zone to help yourself forget about how lonely you are. You might even find a long-term partner or friend in the process.
There's no reason to stay cooped up inside by yourself this holiday season —even if you're a homebody. There are tons of people out there who'd love to hate-watch Netflix's A Christmas Prince with you while making up ridiculous, holiday-themed drinking games. Spruce up your dating app bios with a little holiday cheer (maybe let people know you're actively looking for the holly to your jolly or just copy and paste "Blue Christmas" lyrics in there to get the point across) and swipe with the reckless abandon of someone who's determined not to be lonely this holiday season. That's what I intend to do.
Check out the entire Gen Why series and other videos on Facebook and the Bustle app across Apple TV, Roku, and Amazon Fire TV.
Check out the "Best of Elite Daily" stream in the Bustle App for more stories just like this!