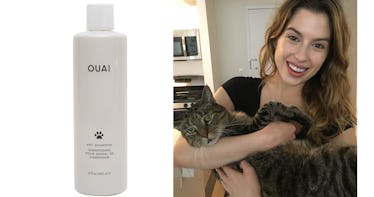 I Washed My Cat With Jen Atkin's Pet Shampoo & Now He Smells Better Than I Do
Ouai/Sophie Wirt
I recently moved in with my boyfriend. One of the many bonuses of making the move is that I've gotten to know his cat — another great dude, Mr. Peanut. My S/O has kindly knighted me as Peanut's second caregiver, so for all intents and purposes, the fluffy little dude is mine. As an #official cat mom, I've bathed Peanut twice: most recently, I washed my cat with Jen Atkin's pet shampoo and now I can't stop sniffing him.
Yes, Jen Atkin — stylist to the stars, including the Kardashians and Chrissy Teigen — just released a pet shampoo (!). And yes, said shampoo is just as absurdly adorable as it sounds. In case you're new to the world of of delicious-smelling shampoo and other hair-related accoutrements, Atkin is the creator of OUAI haircare — i.e. the cool girl, minimalist hair and beauty brand you've probably (definitely) seen on your Insta feed.
Not only is OUAI's simple silver packaging easy on the eyes, but the formulas work like a dream. Aside from their effectiveness, my favorite element of OUAI products is their completely, undeniably amazing scents. (I am a sucker for fabulously fragranced shampoo!)
Naturally, I flipped when I learned that the OUAI Pet Shampoo features the same luxe scent as its human counterpart — Ouai No.1. In case you've yet to give the signature scent a whiff, it is quite possibly the most perfect floral musk ever created (think notes of jasmine, rose, and white musk). To think that (sometimes-stinky) Mr. Peanut could possibly smell like a flower garden was enough to send me clamoring to get my paws on the pet version of my fave shampoo.
Peanut is around 14 years old, (geriatric in human years!). As many old cats (and people!) tend to become, Peanut can be ornery and stubborn. He tolerates bathing in the way I tolerate working out — which is to say, I wouldn't choose to do it, but I can suck it up. Before bathing Peanut with the shampoo, I half-assumed it would feel like a watered down, less-delicious version of the human formula. However, Peanut and I agree: it did not disappoint.
While the formula is super-gentle and pet safe, it also relies on some human-level cleansing ingredients like apple cider vinegar, tamarind seed extract, and aloe juice. What's more, the pet formula lathers comparably to the human OUAI shampoo I use and smells just as phenomenal.
In fact, Peanut has never smelled better. It's now one week post-bath, and I swear to you — he still smells like he just walked out the most high-end salon on Park Avenue. It's gotten to the point where I'm honestly almost envious of how effortlessly chic he smells. Plus, he is so soft and shiny! (Photo of me caught in the act of sniffing my cat, below).
No cat? No problemo! OUAI pet shampoo can also be used on dogs! Pigs! Rabbits! Honestly, any furry buddy that's in need of a little TLC. You can even use it on furless friends like sphinx cats! (I would like to take a moment to remind everyone that sphinx cats, because of the oil they produce, generally need to be bathed more often than other cats! The more you know.) I digress.
The OUAI pet shampoo launches this month for $28. Of course, almost-thirty dollars isn't exactly chump change, but A) this is really good stuff, and B) a portion of the proceeds will go directly to a good cause! Yep, fifteen percent of proceeds will go to the Vanderpump Dog Foundation, which aids dogs in need (and, yes, is spearheaded by the one and only Lisa Vanderpump).
Sadly, the OUAI pet shampoo is limited edition, but a little bit goes a long way. Plus, the bottle is pretty generously sized (15 fluid ounces), so depending on how often you wash Fido, it has potential to last years. You can snag your own bottle of the elixir on the brand's website this month. Don't forget to grab yourself a human version of the stuff, too — I promise you'll be wishing you did once you use it on your four-legged friend.