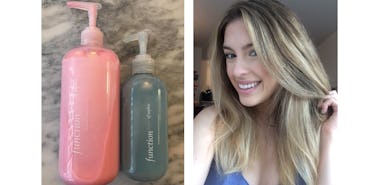 I Tried Custom Shampoo & Conditioner For Summer & I Now Look (& Smell) Like A Mermaid
Sophie Wirt
Summertime beauty 101: lightening up on moisturizer, revving up the SPF, and indulging in as many beachy-smelling products as possible. If you want hair that looks and smells like you spent a day in the sand, this Function Of Beauty For Shore Shampoo & Conditioner review will tell you how to score a mental getaway every time you shower. No joke, this stuff is that good.
My hair has always been on the unpredictable side. And while weather, styling, and even coloring can affect the way it falls on any given day, much of my hair's temperament depends on what I use while I'm scrub-a-dubbing in the shower. Consequently, a good shampoo and conditioner combo is pretty darn essential for a good hair day. Locking down the perfect pair can be tricky, though — especially if you're not quite sure of your hair type and what exactly it needs on any given day (read: me 90% of the time). Thank the hair gods I discovered Function of Beauty: the bespoke shampoo and conditioner brand that customizes your haircare to fit your strand-specific needs. You can read more about the brand here, but I'll give you a Cliff Notes version of how it works (just in case you're not in the mood to switch tabs).
Head to the Function of Beauty website. Take the four-question quiz, which inquires about the structure, thickness, scalp moisture of your hair. Then, pinpoint your exact #HairGoals (be it smoothness, shine, volume etc.). Next, choose your preferred color for the formula (baby pink, powder blue, minty green, oh my!) plus a personalized inscription (most people do their names, but you can write whatever your heart desires), how often you want the stuff delivered, and whether you want travel size or standard size. (Side note: You can opt for a larger conditioner bottle, which is honestly a game-changer if you, like me, always outpace your shampoo with mounds of conditioner.)
Oh, and you also get to choose the scent! Admittedly, I'm prone to judging my shampoo and conditioner by how yummy it smells — trust me when I say these babies do not disappoint in the olfactory department. Until recently, the brand offered five scents, ranging from peony to eucalyptus. While these options are perfectly lovely, I urge you try the new "For Shore" scent, which smells like some kind of beach vacation I want to go on, STAT. The new scent launched at the end of May 2018, just in time for summer. Tangentially, I'm writing this particular piece on the first "official" day of the season, but let it be known that my personal summer vibes started a long time ago... right in my shower, thanks to For Shore.
In my very informed and incredibly technical opinion on the science of scent chemistry, I surmise that the making of this stuff required a trip to the fanciest beach house in Montauk, magically capturing its essence, and bottling it up in shampoo form. Specifically, the fragrance features top notes of mandarin and sea salt with undertones of flowers and coconut.
I'm not a fan of the act of washing my hair, but honestly I love lathering up with this stuff. (If I close my eyes hard enough while I'm shampooing, I can convince myself I'm on vacay.) Moreover, the smell of beachy bliss clings to my hair for hours — even a day or so — post-use. This scent is so good, it has me grabbing my curls and shoving them (practically) up my nose when life gets a little too cray... because who doesn't feel calmer from the smell of the ocean?
All of the Function of Beauty formulas are free from parabens and sulfates. They're also 100 percent vegan and cruelty-free. Hooray!
You can snag your own For Shore Shampoo and Conditioner ($18 each or $36/8oz set) on Function Of Beauty's website. Long live summer-scented hair!