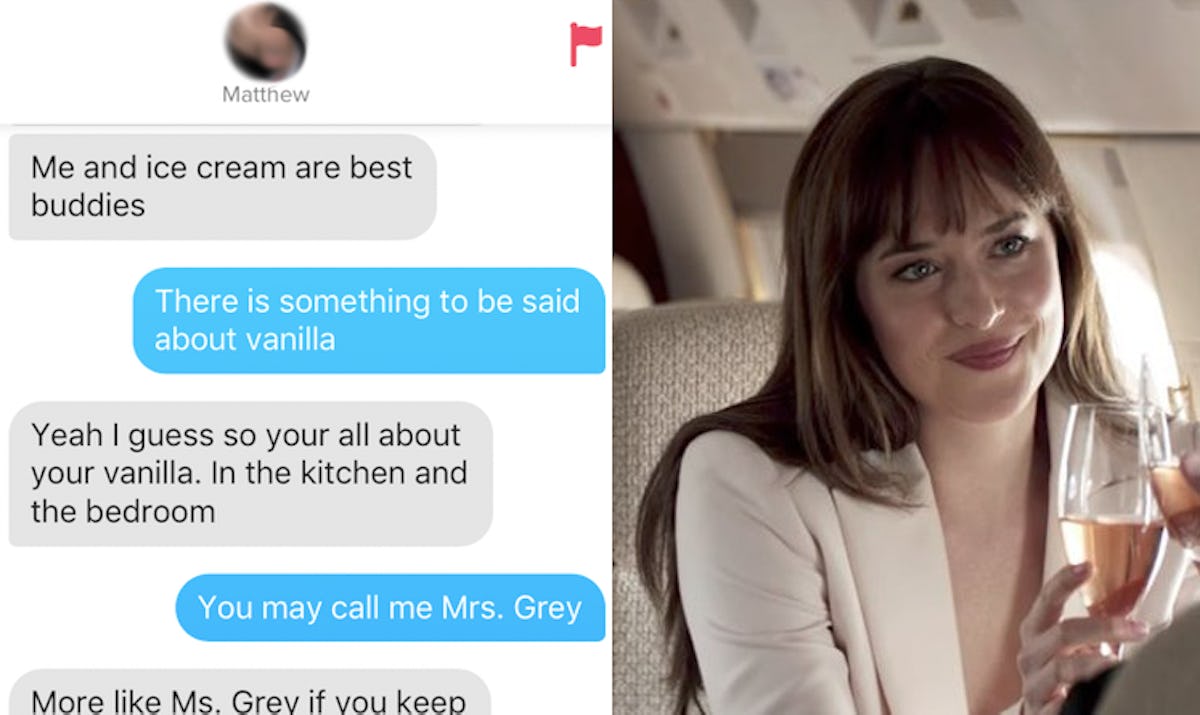 I Used 'Fifty Shades' Lines On A Dating App & Here's What Happened
Jamie Kravitz/Universal Pictures
Hey, it's me again. As Elite Daily's resident Fifty Shades fan slash Tinder conversationalist extraordinaire, you know it was only a matter of time before I messaged my dating app matches using lines from Fifty Shades Freed. Guys seemed pretty into talking to me about the Fifty Shades films last time I broached the provocative topic on Tinder, so I figured I'd take it just a bit farther for this experiment.
For context, while I was swiping and sending these quotes, my bio read: "I'm fifty shades of free tonight." This was 40 percent because I actually had no plans, and 60 percent because I like to think I'm clever. While more than one match mentioned this rather leading line, none of them seemed to catch on to what I was doing. You would think someone would eventually get suspicious, but my motives were never questioned.
You can't deny that the writing — both in E.L. James' books and the respective film adaptations — practically begs to be used to pick up unsuspecting men. Here's what happened when I messaged my Tinder matches only using lines from Fifty Shades. My only regret is that I couldn't find a way to work in the "boobs in boob-land" bit. I guess there's always next time.
Joe, 24
I decided to start off with a less obvious line from the movie — one that wouldn't be immediately recognizable and also worked as an opening message. Joe responded with his own pop culture reference, and I continued to quote Christian.
We hadn't met, but Joe was clearly down to play.
I'm not sure who was in Hoboken, for the record, but I definitely wasn't. Either way, our rapport ended here.
Mickael, 22
Mickael took a cue from my bio, and his (albeit vague) pick-up line provided me with the perfect in. Seriously, though, the more you think about the phrase "50 shades of things," the less sense it makes... right?
I guess Mickael wasn't free this week after all.
Jack, 23
I mean... I had to.
At this point, I decided all three Fifty Shades films were fair game. So when Jack turned the question around on me, I chose to use this gem of a line, courtesy of Ana in Fifty Shades Darker.
While I was flattered by his assumption that I came up with the name, I was also a little disappointed at his lack of knowledge on the BDSM terminology front.
Matthew, 24
My favorite conversations are the ones where my matches take my messages in stride. Matthew played along, immediately creating a backstory for our supposed marriage. He didn't offer to build me an eco-friendly mansion or take me flying in his private aircraft, but that's OK. Apparently I'm not very faithful, so I don't blame him.
I'm stealing lines from both Ana and Christian here, by the way. They're both such wordsmiths.
I think Matthew threatened to leave me. Ouch. This was all happening so fast, I could barely keep up. It's a good thing I didn't have to come up with my own material.
Come on, Matthew! "I'm 50 shades of f*cked up"? I am giving you gold here.
I figured Matthew had endured enough torture, so to speak, even though we hadn't yet set foot in the Red Room. I dropped the act and he admitted he hadn't seen Fifty Shades, which helped put our conversation in perspective. This admission may or may not be a dealbreaker for me — I haven't decided. Don't worry, though, I'll keep you updated. Laters, baby.
Check out the entire Gen Why series and other videos on Facebook and the Bustle app across Apple TV, Roku, and Amazon Fire TV.
Check out the "Best of Elite Daily" stream in the Bustle App for more stories just like this!