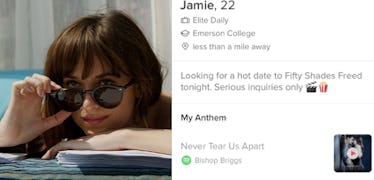 I Asked My Tinder Matches To See 'Fifty Shades Freed' With Me On A First Date
Universal Pictures + Tinder
Fifty Shades Freed falls into many categories: drama, thriller, romance... But it's not an obvious first date film. A movie full of unconventional sex scenes doesn't stand out as the traditional choice for a "let's get to know each other" activity — which is exactly why I wanted to make it happen. At the very least, watching Fifty Shades on a date is guaranteed to make a good story.
To ensure I had access to as large a pool of eligible bachelors as possible, I turned to my trusty friend Tinder. I edited my bio so that it read, "Looking for a hot date to Fifty Shades Freed tonight. Serious inquiries only." At the end, I added the clapperboard (or "action thingy," which is what I just Googled to find the correct word) and popcorn emojis. I even changed my featured Spotify song to "Never Tear Us Apart," from the Fifty Shades Freed soundtrack, because I am nothing if not thorough. Then, I got to swiping.
I wasn't confident that I'd find a guy who truly wanted to see the film, but I figured if someone did want to watch it with me, he'd likely be far from boring. I was aware that the content in question might give off the wrong idea about what I'm looking for (I make it a rule not to bring up whips and chains until at least the third date), but it's just a movie. If I was looking for a date to see Harry Potter, my matches probably wouldn't assume I was a witch, right? Unfortunately, some of the men who messaged me didn't seem to share this reasoning, and the conversations quickly escalated.
Aaron, 24
I matched with Aaron, who messaged me a friendly greeting right away and offered to see the movie. Score! I was genuinely surprised, which I told him.
Aaron kept the conversation going, and he seemed interested in learning more about the Fifty Shades films. So far, so good.
Just when I was starting to feel comfortable with the idea of meeting Aaron at the theater, he had to go there. I honestly think it was the backwards wink that gave me creepy vibes, more than his admission about liking kink. Either way, I stopped responding, and moved on to the next.
Sean, 24
Sean and I had the flirty banter down from the beginning. His opening line was funny and unique, which made me want to respond right away. It seemed like we shared a similar sense of humor. I played along, mirroring his sarcastic tone.
Sean was not so subtle in his hints, but he also wasn't forceful with his approach. We were talking on a dating app, so some flirting was to be expected. The conversation went on, but sadly he never asked me to be his date.
William, 24
I was pretty sure I knew what he meant, but I decided to give him one last chance to surprise me.
Oh, William. He was smart to take my lack of response as a no, but did he need to send three messages? If he had really gotten the hint, he wouldn't have kept pushing.
Axel, 22
Axel said he was down to accompany me, and it turned out that he might have been a bigger Fifty Shades fan than me. He read the first two books, which is more than I can say. We talked for a while about the similarities and differences between the two, and even got into talking about Twilight (the inspiration for the erotic series), before the conversation came back around to the request in my bio.
I figured it was time to be a little more forward. Perhaps all I had to do was give him a little push. Axel seemed nice, smart, and normal, plus he was so cute. Luckily, he caught on.
From here, I sent him my number and we moved the conversation to text. Sean was fun, but Axel was the clear winner here. He has my digits, so now all he has to do is pick a movie time. I'll be waiting.
Check out the entire Gen Why series and other videos on Facebook and the Bustle app across Apple TV, Roku, and Amazon Fire TV.
Check out the "Best of Elite Daily" stream in the Bustle App for more stories just like this!