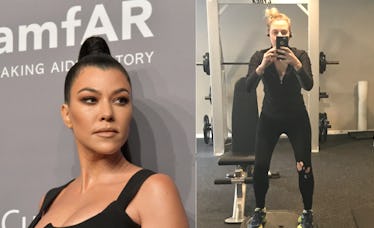 I Tried Kourtney K's Butt Routine & It Truly Lit A Fire Under My... You Know
Michael Loccisano/Getty Images Entertainment/Getty Images, Courtesy of Ginny Hogan
You've been there before: You're scrolling through your Instagram feed when you see your favorite celeb post about their favorite new product — a face serum, vitamins that will make your skin brighter, or a specialty food service. You can't help but want to be like the stars, but are the products worth it? In Elite Daily's new series, I Tried, we put it all to the test. We're trying those products as well as celebrities' health and wellness tips, recipes, and life hacks. We'll do the leg work and tell you what living like your fave star is really like.
I had basically just assumed celebrities' butts were a next-level creation, paid for by an expensive personal trainer and carefully honed through constant rigor. Kourtney K was recently seen showing off her strong bod on a trip to Turks and Caicos with her sisters, and it left me wondering what she does to work out. And lucky me, she just happened to share her booty workout on her website, Poosh. It turns out you don't need a fancy trainer or gym membership to whip your booty into shape. I tried Kourtney K's butt workout, and my rear feels tight.
Kourtney K's butt workout can be done in less than 30 minutes. That's right. In the Poosh video, her trainer Coach Joe walks Kourtney and Khloé Kardashian through six exercises, each of which takes less than five minutes to complete. I wanted to give this workout a try to see if anyone could do these moves, and the results were positive. You don't have to be famous to move your body, and everyone deserves to feel good about themselves. So, I studied Coach Joe's workout for Kourtney K and put it into action.
All you need is a Bosu call. If you don't have one, all the exercises can be done from the ground instead of a ball, but the ball gives you an extra balance challenge. I did Kourtney's workout five times a week for two weeks, and let's just say my booty thanked me (if it could talk, which it weirdly can't, despite me spending years trying to teach it to). You can do each exercise for as long as you like, but Coach Joe recommends about five minutes on each of them. Read on to find the six exercises that Kourtney K does on the reg for her instant butt lift.