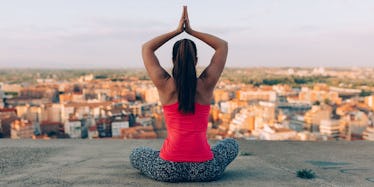 Exercise Can Help Teach You These 6 Major Life Lessons, According To Experts
Everyone knows that working out is great for your body. After a sweat sesh, perhaps you feel strong, speedy, or simply amazed by what your body can accomplish (hell yeah you just did five burpees in a row). But maybe you don't really stop to think about the deeper, more complex things that exercise can teach you when you're mid-burpee (aka barely able to breathe and drenched in copious amounts of sweat). If not, I'm here to tell you that there's a whole lot more than meets the eye when it comes to a good workout.
Just like it's common knowledge that working out benefits your physical body, it's really no secret that exercise can be great for your mental health, too. For one thing, the endorphins — aka "happy" hormones produced in the brain — that flood your body after a quality sweat sesh are beyond comparison. What's more, according to research published in The Primary Care Companion to The Journal of Clinical Psychiatry, the official journal of the Association of Medicine and Psychiatry, exercise has been linked to reduced symptoms of anxiety, depression, and negative mood, as well as improved self-esteem.
With all of these incredible benefits in mind, it makes sense that moving your body in ways you love is bound to teach you some life lessons along the way, right? Here are six things exercise can teach you, according to fitness experts who have been there, done that, and have seen the ways that daily movement has changed their clients' lives for the better.