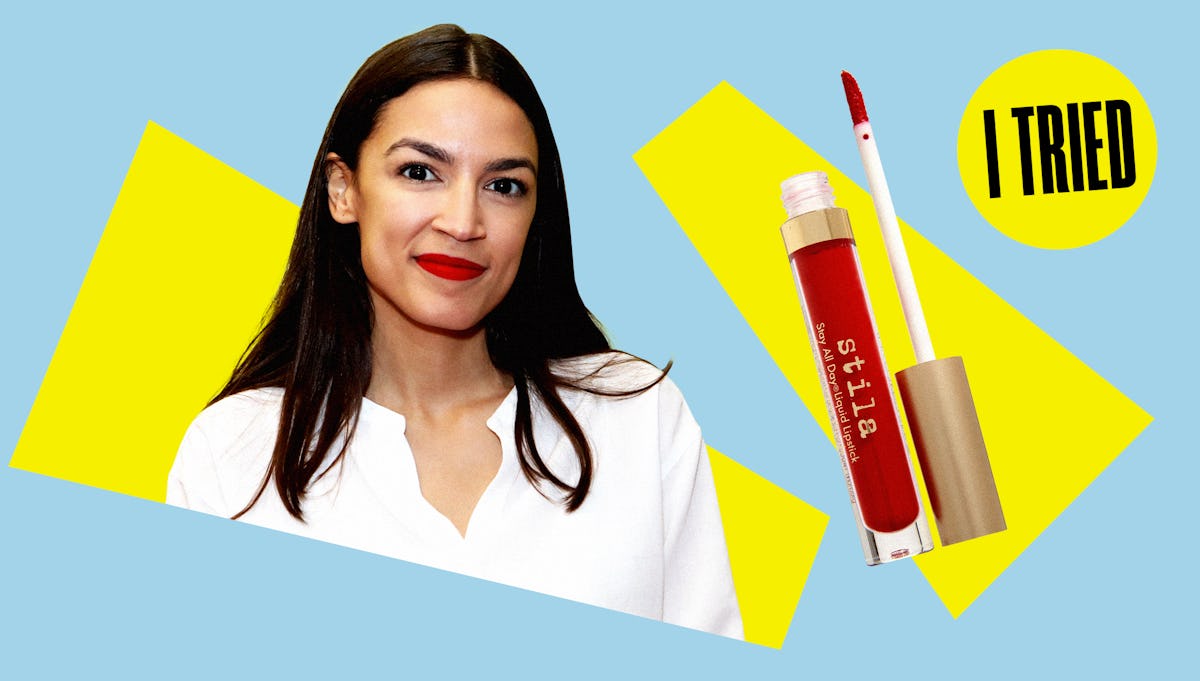 I Tried AOC's Signature Red Lip & I Totally Get The Hype
Samantha Burkardt/Getty Images & Stila
As an icon of both politics and style, it's easy to see why Rep. Alexandria Ocasio-Cortez (D-New York) is a role model to many. When the Democrat from the Bronx was sworn in as the U.S. Representative for New York's 14th Congressional District at the start of 2019, Americans were taken by her outspoken nature on the floor, whip-smart Twitter banter, and instantly recognizable look. There are plenty of ways to emulate the fab politician, but since I don't exactly have time to run for office, I tried Alexandria Ocasio-Cortez's signature red lip to channel some of her spark.
Politicians have long been considered trendsetters in the United States, but in recent years, modern political figures seem to be taking their status in pop culture to new levels — with younger leaders like Ocasio-Cortez at the top of the heap. However, the congresswoman is all too aware of the sexism that comes with having a signature ~lewk~.
"In politics, there is so much criticism and nitpicking about how women and femme people present ourselves. Just being a woman is quite politicized here in Washington," she said in a Vogue Beauty Secrets makeup tutorial on Aug. 21, 2020. "There's this really false idea that if you care about makeup, or if your interests are in beauty or fashion, that's somehow frivolous. But I actually think these are the most substantive decisions that we make, and we make them every morning."
Also in the video, Ocasio-Cortez talked about timely topics like the pink tax, the patriarchy, and being taken seriously in Congress — all while walking viewers through her daily glam routine. She specifically called attention to her lipstick, saying she wears a bright red color when she needs a boost of confidence.
As someone who often finds herself searching for a quick confidence fix, I figured testing out Ocasio-Cortez look was worth a shot. While I usually save a bold red lip for seriously special events (like a wedding or my anniversary), I figured right now is as good a time as any to live by Ocasio-Cortez's words from the tutorial: "Femininity has power."