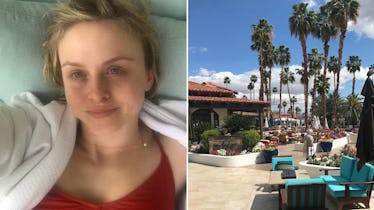 I Escaped To A Wellness Retreat, But There's One Thing That Kept Getting In The Way
Annakeara Stinson
It wasn't until my very last day on a wellness retreat in Palm Springs, California, when I was reading a book and sharing a love-seat with a smiling elderly woman on a sun-soaked patio, that I finally felt totally relaxed. When I was first invited by a team at Osteo Bi-Flex to come on a trip that focused on staying healthy and active while traveling, I jumped at the chance to get out of dodge for three days and ditch the nasty weather in Brooklyn. But TBH, friends, escaping to a wellness retreat didn't turn out the way I expected at all. I was surprised, actually, by how it made me feel straight-up anxious to focus just on feeling well for a few days, despite being in a palm tree-laden paradise, at a resort where I could be taken anywhere I wanted, at any time, via a cute little golf cart.
Now, don't get me wrong. The ol' Omni Rancho Las Palmas Resort was totally beautiful, the other writers on the trip with me were awesome, and the Osteo Bi-Flex team who planned our activities truly thought of everything we might need.
The one X factor in the scenario? Moi.
I've come to learn it's actually quite difficult for me to truly retreat, relax, and turn off my brain, even when all the resources to do so are readily available to me.
According to Texas-based counselor, Heidi McBain, struggling to relax on vacation isn't uncommon. In part, she says, it has to do with your habits.
"We're used to having certain daily patterns and habits in our lives," McBain tells Elite Daily. "And when we're on vacation, these same patterns and habits are there with us."
If you usually pick up your phone and check your work email first thing in the morning, chances are, she says, you're doing the exact same thing when your eyes flutter awake each morning on vacation. That's not exactly helping you along the road to relaxation, you know?
Now it's possible, for me, that I felt a little out of it and wound-up at first because of a bevy of travel delays that plagued my trip from New York City to Palm Springs. I finally arrived at my hotel after roughly 14 hours of nonstop travel, so I was, understandably, freaking exhausted. My late arrival also meant that, sadly, I'd missed the massage that was planned as a relaxing welcome treat. And while all I wanted to do when I got to the hotel was go to bed for the night, I was scheduled to meet up with the rest of the retreat crew for drinks on the patio and a welcome dinner.
Tired as I was, I have to say, you really can't beat the view from my balcony.
Dinner was delicious, and it was really nice getting to know everyone, but still, I could barely keep my eyes open. What's more, we had a 7 a.m. wellness walk planned the following morning, so I bowed out before dessert and headed back to my room to rest.
Lying down in bed felt amazing, but because I am who I am, I actually had anxiety dreams all through the night, fearing that I might oversleep and miss out on the early-morning activities planned for the next day.
Interestingly enough, according to Huffington Post, not only can anxiety dreams indicate you're being hard on yourself, they can also be a result of anticipating a potentially difficult situation coming up in the future — like an early sunrise, perhaps? And the idea of spending a whole day with totally new people in a completely new environment?
Because, yes, despite my 6:30 a.m. wake-up call that next morning, I soon jokingly became known among the group as the one who's always a few minutes late for everything, as I was, once again, the last to arrive. I was tired, y'all! I was jet-lagged!
Our crew went out to the resort's parking lot to meet up with our guide, Scott Scott (yes, that's his real name), of Palm Springs Hiking Tours, a man who has an impressive 25 years of experience in leading tours throughout this beautiful California city.
I did find it a little funny that we had to walk along the highway for a good 10 minutes of our hike, and we even awkwardly trekked through the outdoor seating area of a P.F. Chang's, while Justin Bieber oldies blared through the speakers. It wasn't exactly what I was expecting out of a "wellness walk," but hey, I was still having a good time.
Once we actually made it out into ~the wilderness~, we began hiking uphill, which really woke me up. Even though I was still a little out of it, I was surprised by how good it felt to move my body so much that early in the morning. Usually, the only thing that gets me out of bed before 9 a.m. is the promise of coffee and a free hot breakfast — but this? This was pretty nice.
Our next wellness activity for the day was a lesson with world-famous tennis legend, Chrissie Evert. Now, while the opportunity to hang out and train with a legit, professional athlete was rad AF, the general idea of playing tennis — a sport I hadn't tried since I was 7 years old — caused me to feel a little bit of internal stress. Look, I do love to work out, and finding new ways to move my body is always great, but I've never really been into competitive sports, or any activity where hard balls are flying past my face (yeah, yeah, make your jokes, whatever). With all of these worries swirling around in my mind, I began to wonder if I was really doing this whole wellness vacation, you know, well.
Despite my stress, I actually really enjoyed playing tennis, and it felt good to channel my anxiety into something physical. Hey, it was definitely better than just lying around and being stuck in my own head, you know?
I also had the chance to chat with Evert a bit about her ideas around wellness, her self-care routine, and the importance of staying active. Talking one-on-one with her actually provided some ease, since one of the topics we discussed was emotional well-being. She tells me she's a big proponent of therapy, and she shares that it's so, so important to not be so hard on yourself when you're going through something difficult.
She also tells me that sleep, finding exercise you genuinely love, and maintaining balance in your nutrition should always be at the top of your priorities. To help her meet those self-care goals in her own routine, Evert tells me she regularly takes Osteo Bi-Flex, a supplement that supports joint flexibility and comfort — which, for an athlete like her, is absolutely key. But even non-athletes can reap the benefits, too: I've started taking the supplement myself to help with my achy, post-yoga knees, and I have to say, that stuff works like a charm.
Though the tennis lesson ultimately went well, it wasn't until I finally got that massage I'd missed out on upon my initial arrival in Palm Springs, that things turned a corner, and I really started to let loose.
During that massage, I could actually feel the tension in my body starting to work itself out. I finally felt the anxiety melting away, bit by bit, as I made my way from the massage table to the sauna.
"Massage is beneficial not only for physiological function, but also mental acuity, restfulness, and a better perspective on your life," Eva Carey, national director of massage at Zeel, tells Elite Daily.
And that is definitely what I was feeling after mine — oh, and a leisurely dip in the pool afterward certainly didn't hurt, either.
After falling asleep on one of the outdoor couches, I finally, finally felt like a new woman.
And that's what wellness vacations are for, right?
After a little more napping, and a rather incredible lobster dinner, I felt even more renewed. The next day, I simply sat out in the sun, read a little, wrote a lot, and began to have that "I could get used to this" feeling.
All in all, going on this retreat led me to the realization that I definitely need more wellness and relaxation in my life. No, it probably won't always involve a fabulous resort, professional tennis players, fancy dinners, or a funny guy named Scott Scott. But it will involve me continuing to learn how to truly let things go, how to let myself rest a little more often, and even how to conquer my anxiety so I can simply try new things, just for the sake of trying them.
According to life and business coach, Prue Blenner Hassett, the importance of these little breaks from your everyday life cannot be understated; it's truly necessary for your overall well-being.
"Modern life is so full of work, family, relationships, health, trying to build our futures, while taking care of ourselves and our loved ones, all at the same time," she tells Elite Daily. "It can feel downright relentless, so when it comes to vacation time, we need to just let all of that go."
If, like me, you also have trouble relaxing on vacation, McBain recommends planning to shift some of those everyday, stress-inducing habits ahead of your trip: Try to keep your phone turned off in the mornings, for example, or make it a point to keep the device far away from you when you sleep.
Blenner Hassett suggests prioritizing rest and sleep when you travel, but she also says it's important to not give yourself any "chores" while you're on vacation, even if they're under the guise of good habits. For instance, yes, maybe it would feel good to do some daily meditation or read while you're away, but you're likely better off, she explains, going into your trip with zero expectations for what you "should" be doing.
My only expectation for my next vacation? Find another one of these awesome golf carts to take me wherever I want, whenever I want.