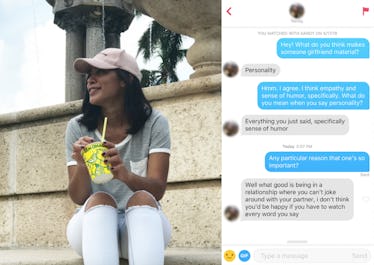 I Asked All My Tinder Matches About Their Ideal Girlfriend & Was Pretty Surprised
Sydnee Lyons
When I set out to ask guys what they look for in a serious relationship, I'll admit I didn't have high expectations. After all, I've spent a lot of time swiping left on guys who are looking for their swolemates (WTF?). Nothing against personal development or anything but, like, count me out. I prefer to do my workouts the same way I take my bathroom breaks — not in front of someone I'm attracted to. Luckily, my not being swole isn't a relationship deal breaker for most guys. In fact, I asked my Tinder matches about their ideal girlfriend and physical appearance didn't come up once.
I'm not sure if their responses would have been different if they had been talking among themselves but, for what it's worth, they were all pretty honest and heartfelt. I highly recommend initiating your own Tinder conversations with a bold and personal question like this if you're looking for something serious. Chances are, anyone who's swiping for a good time, not a long time, will reveal their intentions early on. Those who respond sincerely (and everyone I spoke to did) will be the ones who are genuinely interested in having a conversation with you.
I spoke to five guys I met on Tinder to find out exactly what qualities they're looking for in their ideal serious relationship.