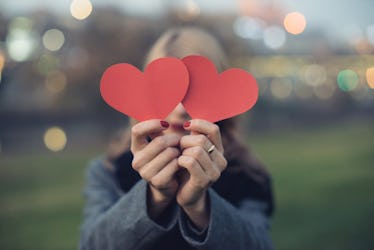 This Is How Valentine's Day Is Celebrated Around The World & It'll Melt Your Heart
If your Valentine's Day plans aren't set in stone just yet, I'm about to give you some celebratory inspiration that'll make you rethink drugstore chocolate boxes and days-old flowers from ShopRite. Don't misunderstand me, peeps, I'm a firm believer in the fact that it really is the thought that counts. I'd be happy splitting a Snickers bar with my husband in front of the TV, if you want to know the truth. But if you look into how Valentine's Day is celebrated around the world, you'll come to realize that there's more to Feb. 14 than material things and an expensive meal. It's about sentimental gestures and raw romance.
We live in such a showy time now, and too often, sweet, simple gestures aren't always enough, unless they come from Pinterest and can be captured in a crowd-pleasing Instagram photo. Blame it on Laguna Beach's promposals, Nicholas Sparks novels, or — surprise — social media, but I think, somewhere along the way, our idea of how to show love has become too complex, and sort of superficial, TBH.
Let's rewind to 2001, shall we? You know, when queen J.Lo preached "love don't cost a thing." Valentine's Day festivities don't have to be blown out of proportion to show your SO you love them more than anything in the world. Sure, diamonds are nice and sparkly, and who doesn't appreciate a delicious meal? But seriously, these are all tangible things you can splurge on any day of the year. Holidays are special because they aren't supposed to feel like any other day of the year. And, no offense guys, but other countries are schooling us in this. Here are a few examples of how other countries celebrate Valentine's Day to inspire your own date night this year.