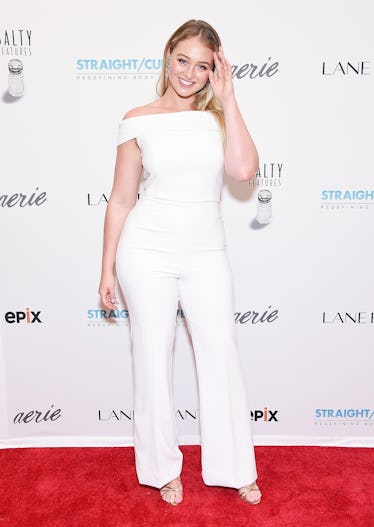 9 Women On Wearing White Clothing — & How To Feel Great In The Non-Color Yourself
Michael Loccisano/Getty Images Entertainment/Getty Images
When it comes to sartorial conundrums, none seems to be quite as frequently asked about or referenced than the topic of how to wear white clothes. Some people shy away from doing so completely, while others go all out and sport the crisp, monotone hue from head to toe. As for the "no white after Labor Day" rule? I'm of the opinion that it's BS, but if you want to abide by it, then you do you. (That's my general on fashion in general: You do you.)
Personally, I love wearing white, though I usually stick to the same two outfits when doing so. I am not a fan of white skinny jeans or shorts (I'll only wear white pants in kick flare or trouser form) and prefer to either go super sleek or super boho with the hue. My favorite white look to wear features a midi eyelet dress, which I cinch with a black belt and accessorize with black booties and vintage silver jewelry. (Is that cheating?) It's very Los Angeles and and very easy — it makes me feel like a cool Cali witch, which I adore. If I'm going sporty, I'll opt for a pair of sleek white trousers, white sneakers, and a structured or architectural shirt. Think Phoebe Philo's Céline, but with a slightly sharper edge.
For me, wearing all white simply feels like a slightly crisper fashion statement than usual, but for some, it can cause some major stress. In order to understand the nuanced art of wearing white, I asked several of my colleagues to give their stance on the sartorial choice. Much to my surprise, their answers were all over the board, and that's OK.
Some attested that it makes them feel pretty uncomfortable:
"Wearing white is just like camouflaging my already pasty skin; it makes me feel like a ghost." - Kaitlyn
"Wearing white gives me anxiety." - Noelle
"I think white tends to highlight my body in a way I'm not into." - Veronica
For others, wearing white makes them feel like a walking target for cup tips and fork dribbles:
"SPILLAGE and all the potential for spillage at every corner." - Allie
"It makes me feel proud when I do not spill anything. Also, I feel so crisp and tan." - Hannah
Some feel extra cool in the hue:
"Wearing white makes me feel clean and sophisticated, even though I am neither." - Laura
"It makes me feel fresh." - Alexa
And for others, it's an experience that draws up past memories or confounds them with a mixture of emotions:
"White also makes me feel exposed in some way. Like, it's not technically a color, and yet it feels like the brightest color you could possibly wear. Does that make any sense?" - Allie
"It makes me feel tan but also unintentionally bridal." - Ashlyn
"Wearing white just reminds me of the time this popular girl in middle school wore a white mini skirt and leaked through it IN THE FIRST ROW OF THE BLEACHERS WHEN THE ENTIRE EIGHTH GRADE CLASS WAS PRACTICING FOR GRADUATION" - Alexandra
Basically, what I've gathered from these (relatable AF) thoughts is that some love white, some hate it, and others are ambivalent toward it but find it slightly confusing. Isn't that the case for most bold trends? Dad sneakers, peplum tops, tiny sunglasses — they're all divisive and have staunch supporters and haters. I think you simply have to find trends that make you feel fabulous and figure out how to rock them your own way. Noelle, for example, also told me, "Why wear white when you can wear black, is basically my feeling." Clearly, she dodges aesthetics she isn't feeling, and wholeheartedly embraces those she loves.
In case you're still looking for some pointers on composing a monochromatic look that will turn heads, while still making you feel comfortable and confident, here a few of my best pieces of advice. But honestly, my number one tip would be to wear it however you damn well please — if you feel great in it, that's all that matters.
Like any other outfit, make sure your proportions balance each other out. Going for baggy pants? Choose a top with a structured waist or arms that you like, or style it by tucking it in.
If you feel a little boring when wearing white from head to toe, try choosing pieces with different textures, detailing, or silhouettes. A knit white top will make for a way more interesting pairing with white denim than a plain tee.
To save you from feeling overly bridal, opt for accessories that are decidedly not stereotypical wedding attire. Try geometric metallic earrings, woven bags, and chunky shoes.
Et voila! A vision in white.