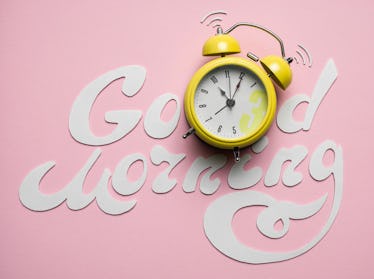 How To Wake Up Without An Alarm By Sticking To These 5 Simple Tricks
While it is effective to wake yourself up with the sound of a bugle coming from your iPhone, or perhaps Sia's "The Greatest" blasting from your bluetooth alarm clock, it can be, well, alarming to one's delicate state while we transition from sleep to the land of the living. While knowing how to wake up without an alarm seems the stuff of myths, or at least something only Navy Seals get trained to do, it is, in fact, pretty darn good for you. Not to mention, very pleasant. And, believe it or not, something we can all learn to do.
If you need more convincing that waking up au natural is something you should try, neurobiologist Dr. Benjamin Smarr, who works with Reverie, shares with me over email some specific benefits of waking up without an alarm.
"When you wake up naturally, your body is coming out of a bout of REM sleep," he says. "The sleep you're getting at the end of the rest cycle is needed to finish hardening your memories and refreshing your emotions for the new day. When you use an alarm clock, you break that REM sleep, and give yourself a jolt of stress instead of a peaceful awakening."
Dr. Smarr says that the the stress from that jarring wakeup sort of compounds with the loss of emotionally refreshing REM sleep. This can make your whole day feel much more stressful and hard to handle. And the wild part is, you probably don't even know it's happening.
"That's the kind of stress that can keep you up and make you need an alarm clock in the morning," says Dr. Smarr. Waking up naturally is more healthy because you let your body and brain finish doing maintenance before putting yourself back on the road, he explains. But it's also good as a signal that things are really on track with you, rest-wise. "If you can wake up without an alarm, then you're not accumulating sleep debt," he tells Elite Daily.
Below are some expert tips on how to wake up on your own, even before the rooster crows — or, you know, when your alarm goes off.