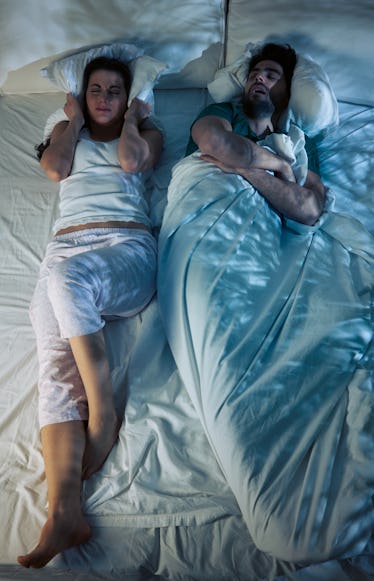 How To Tell Your SO You Don't Like Sleeping At Their Place, Without Being A Jerk
I love my bed. Like, really love my bed. It's the perfect amount of firmness, I have the exact number of pillows I like, and my sheets have a thread count so high it's just...frankly, gratuitous. It's my oasis, which is why I dread sleeping anywhere else. Even when I'm on vacation, I get mattress-related separation anxiety. So if you're not stoked about sleeping over at your SO's place, then girl, I feel you. But here's the thing: The only way to solve this problem is by telling your partner you don't like sleeping at their place. Nicely, of course. Nobody wants to be boudoir shamed.
In other words, it's time to dust off those communication skills and have a grown up conversation. Adulting is annoying — especially when you haven't had a good night's sleep in days from sleeping on your partner's busted, lumpy, straight up inferior mattress. Or because they have a roommate who thinks the best hour for blasting their music or having loud sex with their partner is all of the hours. Whatever the reason for your preference for staying at your place, you're going to have loop your SO in. Here are some tips for telling them you're not about sleeping at their place, without it getting awkward AF.