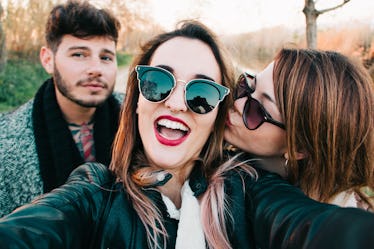 If You Want To Open Up Your Relationship, This Is How Experts Say To Bring It Up
It's conventional wisdom that some day, you will find "the one" and settle down. But, what if you're not all that conventional and your one is more like ones? Well, first of all, there's nothing wrong with that. For some folks, monogamy just isn't the right fit, so open relationships work for them, as long as they're open honest with their partners. But in order to be as transparent as possible (especially if you're already coupled up) the first thing you need to know is how to talk about opening up your relationship, because the first thing you're going to learn about polyamory is that it requires a lot — and I mean a lot — of communication and honesty. This can be really hard, especially if you don't know how to start the conversation.
For the folks I know who either have multiple partners, or have a more open and casual arrangement with their SO, communication and ground rules are essential. But these ground rules can be really complicated and evolving. And while you might not have a perfect arrangement after a single conversation, you have to start somewhere. Granted, if open relationships are new territory for both you and your partner, talking about it can be a bit overwhelming. So, to get some guidance on what could be a challenging conversation, I reached out to Nikki Leigh, a love and relationships coach and host of Ready for Love Radio, for advice on how to approach the conversation and what exactly to talk about with your partner.