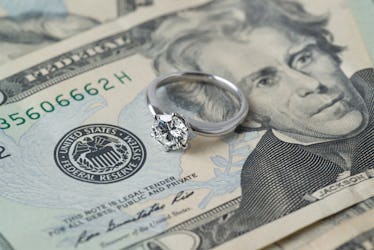 Here's How To Have The Money Talk Before You Get Married, So You're Both On The Same Page
When I was about 11 years old, I decided I needed a bra. My friends were starting to wear them and the social pressure to join in was intense. But still, I couldn't bring myself to just come straight out and ask for a "bra." Instead, I would just spell the word out, as in: "Mom, can we go B.R.A. shopping?" Her response: "You can have one when you're mature enough to say the word." I didn't get a bra that year. But what does all that have to do with knowing how to talk about money before marriage? Well, stay with me here. The same can be said about getting married and having the money talk. Both conversations are awkward and maybe a little embarrassing to initiate, but having the maturity and confidence to have those talks are in and of themselves signs you're ready to take the next step. OK, so this metaphor is a bit stretched, but you get what I'm sayin'.
While talking about money is rarely fun, it's also really important to the health and success of your future marriage, as Anita Chlipala, licensed marriage and family therapist, previously told Elite Daily. "Money is a frequent topic that couples fight about, and so it is important to determine where you are both aligned and where you have differences," she said. And since getting married is only going to raise those stakes and intensify those differences if they aren't addressed, here is how the experts say you should approach the money talk before you walk down the aisle.