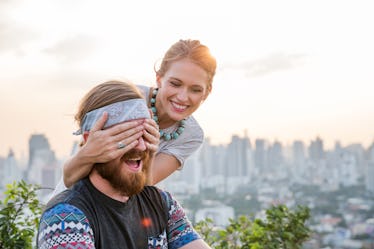 31 Ways To Surprise Your Partner Even If You've Been Together Literally Forever 
I'll never understand people who don't like surprises — good surprises, that is. I absolutely love them. I literally go through life looking and hoping to be caught off guard by positive things. It's why every year I secretly hope I'm getting a surprise party.
As much as I love being on the receiving end of a surprise, I love planning them for the folks I care about even more. If you've been together for a really long time, like I have with my SO, it can get harder to catch them off guard as time goes by. If you want to know how to surprise your partner, don't worry, I got you covered. The good news is that, sometimes, it's just like they say: It really is about the little things. Yes, they show that you care, but even more importantly, they are a hell of a lot easier to pull off than a spur-of-the-moment, whirlwind tour (not that I wouldn't really, really appreciate that if anyone were to suddenly surprise me with one, just sayin'). Still need some inspiration? Don't sweat it. I've got 31 ideas, most of which I've done personally, that your partner won't see coming but will really love.
1. Surprise Them With Tickets To Something They Love
Are they a sports fan? Music lover? Can't get enough stand-up comedy? Whatever live event they love, surprise them with good tickets to an upcoming event.
2. Book Reservations For Dinner At A Nice Restaurant
You don't have to wait for an anniversary to floss out with a romantic night out on the town.
3. Book A Hotel Room Just For The Two Of You
There's just something about a hotel room that makes you wanna take off your pants, if you know what I'm saying. So surprise them by booking a romantic room with a view and then have some special adult time.
4. Surprise Them With A Nice Bottle Of Booze
I love a good bourbon, but oftentimes, I can't justify dropping a bunch of cash on a really good bottle, which is what would make it such a great surprise! The same goes for wine or craft beer — whichever booze they prefer.
5. Wait For Them In The Bedroom In Something Sexy
Make their day with some surprise lingerie… or whatever garments they think are super sexy. Just put it on and wait in the bedroom for them to find you.
6. Or Maybe Wear Nothing At All
This works, too!
7. Treat Them To A Full-Body Massage
Is your SO super tense from stress at work? Surprise them with a massage. Either do it yourself or call in a professional. Either way, your long-term love will dig it!
8. Hide Sweet Notes For Them To Find
Grab some Post-it notes, write sweet messages on them, and start tucking them away wherever your partner will find them.
9. Do Something They Love That They Know You Don't
What's something they love to do, watch, or eat that you just really don't get? Give it a shot, and if you don't like it, don't complain. Just let them enjoy themselves.
10. Create A Treasure Hunt For Them… With You As The Hidden Booty
Make them a special scavenger hunt where the goal at the end is to find both of your hidden Os.
11. Go Old School With An Actual Candlelit Dinner
There is a reason this one is a classic: It's romantic, intimate, can be done on any budget, and candlelight is just great lighting.
12. Act Out Their Fantasy
Step one: Find out their secret fantasy. Step two: Wait a little bit. Step three: Surprise them by making that fantasy a reality.
13. Write Them An Actual Handwritten Love Letter
No one does this anymore, but it's so sweet. Literally get out a pen and paper and write them a message that tells them how much they mean to you. Then, put it somewhere they will find it.
14. Throw Them A Surprise Un-birthday Party
They might be on to your surprise birthday party… but an un-birthday? They'll never see that coming. And by un-birthday party, I just mean any get-together with their friends and/or loved ones, where they are the guest of honor and don't know it.
15. Do Something Adventurous
Whether it's something adrenaline pumping like skydiving or zip lining, or more low-key like an escape room, surprise your SO with something new and exciting that you can do together.
16. Recreate Your First Date
Show your partner how much you care with a trip down memory lane. For me, that's drinks at the local gay bar, followed by a showing of Gremlins (during which I fall asleep — sorry, babe).
17. Surprise Them With A Boudoir Photo Shoot
Take your nudes to a whole new level by calling in a professional photog. Either surprise your partner with the final photos, or if they've always wanted to take sexy pics but were afraid to, book a shoot for them.
18. Give Them A Foot Massage
Dude, all of us have sore tootsies. Say you love them with a little surprise foot rubbin' action.
19. Clean The House When They Are Out
This small act of kindness and love is totally underrated.
20. Sign Them Up For A Class They've Always Wanted To Take
Have they always wanted to learn to play the guitar, join an improv troupe, or take up blacksmithing but just haven't had the guts to sign up? Take that leap for them and sign them up for something you know they will love.
21. Run An Errand For Them That They've Been Avoiding
Make their freaking day by taking something heinous off their to-do list. Nothing says love like standing in line at the DMV for another person.
22. Plan An Entire Day Around The Things They Love To Do
Imagine what a perfect day would look like for your partner. You've been together forever, so you should have an idea of what they love. Then, make a plan that incorporates the things they love to see, do, and eat.
23. Put Away Your Cell Phone For A Whole Day
We're all so distracted by our phones all the time. I mean, I know I am. So why not surprise them with your full attention. Put you phone in a drawer, and don't touch it all day.
24. Plan A Day Trip To Somewhere They Would Love
Not everyone can spring for a romantic trip for two to Hawaii, but that doesn't mean you can get away with your long-time bae. Instead, plan a small day trip to somewhere they would love to see. In my case, it was into the Santa Cruz mountains to a Bigfoot museum. But plan your trip around their interests by finding something strange and unique within a day's drive, and set out on an adventure together.
25. Give Them The Best Surprise: No-Strings Oral
I mean, it's what we all really want, right?
26. Make Them Something
How about a surprise with a bit of creativity? Make them something. Not sure what to make? Make something that celebrates their favorite hobby.
27. Help Them Check Off Something On Their Bucket List
Pick something they've always wanted to do, but maybe were too afraid to do on their own, and be their sidekick. We're making dreams come true here, folks!
28. Steal Their Car And Bring It Back Washed And Gassed Up
Next time they are taking a nap or out with friends, grab their car and have it washed and detailed, and fill up the tank. It may seem like a little thing, but it really shows you care.
29. Give Them A Year Calendar Of Monthly Special Dates
One of the things that happens in long-term relationships is that you fall into a comfortable routine, and you may forget to do special things together. Break out of that by picking up a calendar and coming up with some new, small adventure to do every month for the next year.
30. Try Out An Advanced Sex Position
Need some ideas? Start here.
31. Pop The Question
Bet they really didn't see that one coming, did they?
See? Who wouldn't want these surprises? They're awesome.
Check out the entire Gen Why series and other videos on Facebook and the Bustle app across Apple TV, Roku, and Amazon Fire TV.
Check out the "Best of Elite Daily" stream in the Bustle App for more stories just like this!