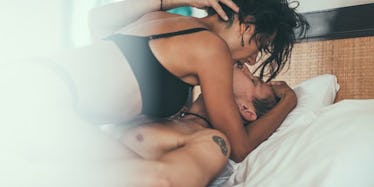 7 Out-There Sex Positions That Will Bring The Spark Back To Your Relationship
Mosuno/Stocksy
God, I love new relationship energy, when everything is fresh and exciting — especially the sex. You know, that early phase where you are getting to know every inch of each other's bodies, learning what each of you enjoy, staying in bed for literal days trying out some crazy sex positions and emerging only for sustenance so that you have the energy to bang some more. Seriously, is there anything better?
When everything is so thrilling, it's hard to imagine a time when sex with them could ever be boring. Sadly, all great things come to an end, and inevitably things slow down in the bedroom. It's natural, it's normal… everybody says so. But still, such a bummer. But do you actually have to accept that it's the status quo? Hell no.
Keeping it fresh does take some work, though. Fortunately, it's the best homework ever. So, how do you make something that's getting a bit too familiar feel fresh again? Nothing spices things up like getting back to the basics of learning new ways to please each other. Trying new things in the boudoir will help to reinvigorate that sense of wonder you had when you first met. It will remind you of how desirable they are and reassure you that keeping things hot between you is totally possible.
Ready to blow your partner's mind? Then read on.
1. The High Dive
Afraid of heights? Don't worry, the only falling you're going to be doing is falling in love with this move.
You begin this position by having your partner lay flat on their back with you straddling them to allow for penetration. Then carefully bring your legs together over them. Hook your toes over the top of their feet like you would if you were standing on their feet to dance. Holding hands, your partner should gently push you up so that your back is slightly bent and your chest and stomach are lifted off their body. Now, using your feet braced against theirs, begin gently moving up and down. Take it easy and let the epic orgasm build.
2. The Melody Maker
For this sexy duet, you're going to need to find yourself a chair or footstool that you can comfortably arch your back over. Sit on the arm and back of chair at an angle, and arch your back so that your head is hanging over the back. Your partner can then enter you by kneeling in front of the chair. This position is great because not only does your partner have access for additional clitoral and breast stimulation, the lowered position of your head makes for a great head rush during orgasm.
3. Hit The Spot
If you're craving a deep vaginal orgasm, this move really does hit the spot… the G-Spot, that is. Here's how this one works. Lay down on your stomach with your pelvis tipped to one side. Have your partner kneel with one leg on either side of the leg that is on the bed. Relax, let your partner take over, and enjoy the ride.
4. Swiss Ball Blitz
Time to dust off the yoga ball gathering dust in the corner, because you're finally gonna put that baby to werk! The Swiss Ball Blitz is a variation of the reverse cowgirl position. Your partner will sit on the ball and once they are stable, you sit on their lap with your legs outside of theirs. Gently rock back and forth until you find the position that gives you maximum mutual satisfaction. This position gets bonus points for offering your partner easy access for reach around clitoral stimulation, and thanks to the rubber, there's more bounce to the ounce, if ya know what I'm sayin'.
5. The Pretzel Dip
If you love deep penetration of doggy style but miss the intimacy of looking into each other's eyes, then good news, because The Pretzel Dip offers the best of both worlds. To assume the position, you will lay down on your side and your partner, on their knees, will slide up between your legs to enter you. From there, it's all thrusting and soul gazing all the time. When you're done, go ahead and get yourself a nice soft pretzel. You've earned it.
6. The Snow Angel
Don't let the sweet and innocent name of this position fool ya — it's super freaky and hot as hell. Think of it as reverse cowgirl… for him. You lay on your back and your partner lays between your legs face down, but with their head near your feet — similar to the 69 position but further south. This is a fantastic position if your partner likes to be spanked because you have perfect access to slap that booty or for additional anal stimulation. See, I told you not to judge this one by its name.
7. The Spider
Finally, a spider that even arachnophobes get on board with! Begin this position by having your partner sit with knees bent and leaning back with their arms to support them. Sit between their legs with your feet on either side of their chest, allowing them to enter you, and then find your rhythm by rocking back and forth.
Heres the challenge: Starting tonight, try one of these every day. Best. Week. Ever!