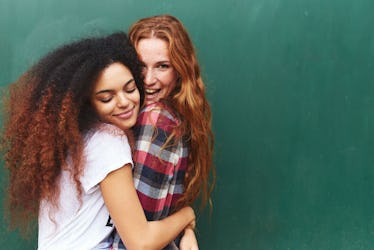 5 Tips On How To Surround Your Friend With Love & Support When They Come Out
Happy National Coming Out Day! Oct. 11 marks the 30th anniversary of the LGBTQ+ holiday, which recognizes and celebrates the process of coming out. Contrary to popular belief, coming out is not one isolated event for an LGBTQ+ person. Instead, coming out is an ongoing, life-long journey for queer people and it should never be required or something you are pressured to do before you are ready. When it comes to improving the coming out process, the support of trusted friends can make a huge difference. I spoke to some experts about how to support your friend when they come out, and they had some really helpful tips to share.
If you're reading this because you've been doing research about how to be supportive during the coming out process, your heart is already in the right place and I'm glad you are in your friend's support network. The presence of social support and acceptance from friends, peers, and loved ones is actually one of the most important aspects of having a positive coming out experience, according to The Trevor Project, the world's largest suicide prevention and crisis intervention organization for LGBTQ+ young people under 25. When it comes down it, one good friend can improve someone's coming out experience exponentially simply by showing up and being supportive. If you want to know more, check out the following tips on how to be the best possible friend to someone who's coming out.