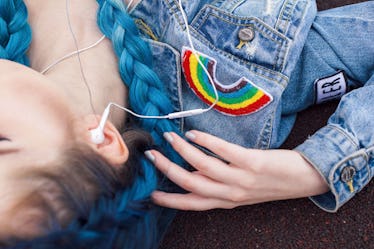 If You're Not Ready To Come Out During Pride Month, That's Completely Normal
If you're queer but not out to your friends and family, you're not alone. If you're not ready to come out during Pride Month, that could be because you're embracing your own process of self-identification and moving at your own speed. Your experience of queerness is entirely your own, and you don't have to conform to anyone else's schedule. Your identity is not contingent upon your participation in Pride.
There are all sorts of valid reasons why someone might not feel comfortable being out during Pride Month. If you aren't ready to come out during Pride Month, it might because you haven't had time to build a safe, supportive network in your own community and don't feel secure being "out there" yet. Maybe you have trouble attending parties while living underneath the Trump administration. Maybe you don't identify with the festival's depoliticized whitewashing. Maybe you haven't told your friends and family the truth about your sexuality yet, and are worried about your image appearing on social media in a way that you feel doesn't represent your belief system. There are all sorts of valid, important reasons you might not want to join in the festivities.
You might not be ready to come out during Pride Month because you don't feel included in Pride's celebrations. In fact, many queer people feel left out of Pride because they feel it has lost touch with its original purpose. Pride is held during June to commemorate the police raid on the Stonewall Inn, which eventually led to the recognition of LGBTQ rights in the United States. But these rights benefitted some members of the gay community more than others: cis white men living in committed relationships have gained the most. The heroes of the Stonewall Riots were poor trans women of color, a population that still faces high amounts of economic discrimination and state-sanctioned violence from police. Issues of socioeconomic inequality and state violence have not been solved by marriage equality or visibility. Every year, Pride celebrations receive criticism for erasing issues such as immigration rights, police violence, reproductive justice, and white supremacy, which continue to be ongoing threats to the LGBTQ community. Pride events also have a heavy police presence, which further flies in the face of the celebration's radical origins.
One of my favorite things about being queer is that it means you have a rich array of options when it comes to representing yourself. Maybe you are still in the middle of figuring out what queerness means for you. This journey of self-discovery is going to operate on its own timeline. Just because it's June doesn't mean you have to rush your own process of becoming who you are.
If you find that your queer identity is aligned more with a Pride that would include trans women of color and indigenous people in decision-making roles, end police endorsement at gay pride parades, and ban corporations that harm the LGBT community from sponsorship, maybe you would benefit from getting in touch with one of the many organizations that have protested Pride in the past. GetEqual and No Justice No Pride are two organizations that are doing this work.
If you aren't ready to participate on Pride at any scale, that's OK, too. You can take all the time you need in the process of figuring out your identity; you'll meet your people eventually, and it doesn't have to happen at a parade. There are many people who find comfort, community, and joy in participating in Pride — but it's completely understandable if you aren't one of them. Stay true to yourself and good things will follow.