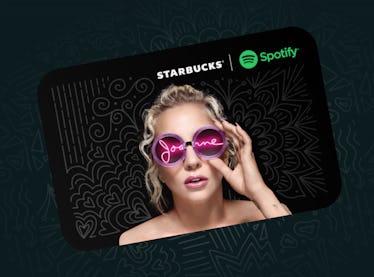 Here's How You Can Support Lady Gaga's Charity With A Starbucks Spotify Card This Season
Starbucks is feeling generous, and not just when it comes to debuting new flavors. In addition to hot cocoas and meaningful holiday cup designs, the coffee company is ringing in the season by giving back — and you can, too. Here's how to support Lady Gaga's charity with Starbucks gift cards, which is totally a win-win situation.
The coffee company is joining forces with the pop star and Spotify to help raise money for her foundation, Born This Way, which focuses on empowering youth to be kind. According to the singer's statement on the Starbucks site, the time to act is now. She said,
A kinder and braver world is urgent, and it is possible. Our work at Born This Way Foundation is to support the wellness — mental, social, and emotional — of young people and build strong, resilient communities. We're grateful for our partnership with Starbucks and Spotify this holiday season!
Limited-edition Starbucks gift cards featuring the "Joanne" singer also entitle recipients to a three-month trial of Spotify Premium for 99 cents. There is no donation component tied to the amount loaded on each gift card. Of course, this will go perfectly with the Pink Cold Cups you got for your Secret Santa (no need to thank us for the suggestion).
But Starbucks isn't stopping there. The coffee giant is also partnering with Chance the Rapper to support his charity SOCIALWORKS, which aims to empower Chicago's youth through art. Things take a slightly different turn with Metallica and its charity, All Within My Hands, which supports veterans' services. Though there are three different artists on each gift card — and three different causes to back — there is one common ground. Starbucks donated a combined $1 million to the foundations. Who knew coffee was so powerful?
The season gets even sweeter thanks to your favorite coffee spot. During the holidays, Starbucks will honor 27 charities as part of the Upstanders Challenge. Additionally, with every Peppermint Mocha, Toasted White Chocolate Mocha, Caramel Brulée Latte, or Eggnog Latte purchased in on Dec. 1 in participating locations, Starbucks will contribute 25 cents to the Global Fund to help fight AIDS. If you thought the company was all about taste, think again. There are some pretty powerful messages behind its deeds, and even its designs.
Speaking of aesthetics, Starbucks debuted its first color-in holiday cup this year. It's fun and lighthearted, but there's a method to this move. The cup, adorned with hearts, presents, and joining hands, is meant to symbolize unity, coming together, and giving back. What better way to ring in the festivities?
"Giving good can be as small as someone opening the door for you, or recognizing the people that enrich your life — your child's teacher, a caregiver, a family friend," Leanne Fremar, executive creative director for Starbucks said in a statement. "The holidays are a time to celebrate all the good we give to each other and our community."
For a limited time beginning Nov. 28, Starbucks locations worldwide unveiled another adorable seasonal design. The cup's red background is accompanied by a white heart and two hands coming together. The aesthetic might be simple, but its message packs a big punch, especially considering the company's donations this year.
"[It's] a clean design, with the heart as a space where people can highlight someone in their life who makes the season special," the cup's illustrator Jordan Kay said in a statement. "The design symbolizes the love and warmth felt during the holiday season, when we connect with friends and family."
Happy holidays, everyone.
Check out the entire Gen Why series and other videos on Facebook and the Bustle app across Apple TV, Roku, and Amazon Fire TV.