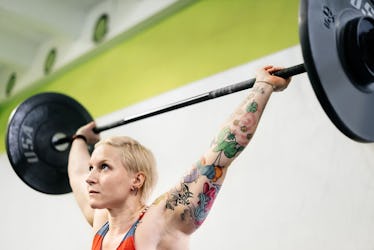 Fitness Experts Reveal How To Start Weightlifting If You're Kind Of Intimidated By It
A few weeks ago, I was lucky enough to have a pro teach me how to start weightlifting — but if I'm being honest, had I not been presented with the opportunity through work, weightlifting probably isn't something I would have ever tried on my own. As a person who works out on a more casual basis, I just didn't really think I had what it took, you know? But let me tell you: Even if you think weightlifting isn't for you, or that you're "not strong enough" to do it, trust me when I say your body can really surprise you with what it's actually capable of — you just have to start from the beginning.
One training session at a time, Jesse Irizarry, founder and head coach at JDI Barbell in Long Island City, New York, squashed my preconceived notions about weightlifting and taught me the foundations of the workout in a friendly, approachable way. See, for a lot of people, weightlifting can seem really intimidating, especially at first, when you're just learning about the safest ways to move your muscles and what your body's range of motion is. As Irizarry says, "you're building awareness of how to use your body," and while it's certainly challenging to begin weightlifting, the fitness coach adds that weight-training is extremely rewarding in that it makes you more resilient, because you're really developing a heightened understanding for how to move your body and what it can do.
So, as scary as it might seem to venture over to the weight rack the next time you're at the gym, keep these basic things in mind if you're thinking about pumping some iron. Like I said, it's not nearly as hard as you're making it out to be, and TBH, there's nothing more satisfying than the progress you'll see in yourself once you start weightlifting.