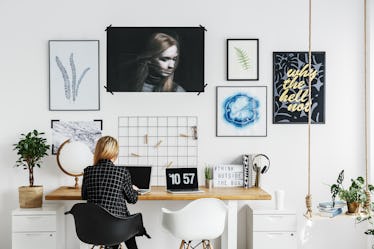 9 Creative Ways To Make "Going" To Your Home Office Feel Like An Actual Treat
Shutterstock
Working from home has become the new normal. Instead of hopping on the subway and grabbing your go-to coffee order on your way into the office, you're whipping out your coffee press before joining Zoom meetings at your kitchen table. The WFH life may have been a big adjustment, but if you know how to spice up working from home, it'll make the transition pretty seamless (and fun).
Since you're spending most of your time at home due to the ongoing pandemic, it's importable to separate work from relaxation. Finding the right balance will make your work week at home feel different than your time off the clock at home.
You might have been used to leaving your work responsibilities at the office at the end of the day, so you didn't have to bring any of it into the peaceful oasis you call home. Now, your worlds have blended together. It's important to find that divide.
Taking the time to do any of these creative WFH ideas will help spruce up your daily routine and make "going" into work a lot more fun. So, once you've crossed off your daily responsibilities, you can turn off your work mode and transition into home mode.