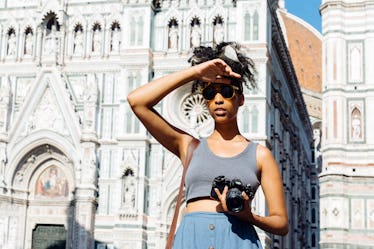 9 Travel Bloggers Reveal How They're Navigating Their "New Normal"
Westend61/Westend61/Getty Images
Not far into the coronavirus pandemic, the world started to shut down. Museums stopped accepting guests, restaurants and bars closed indoor seating, international flights were canceled, and travel restrictions were rapidly put into effect. Many of us prepared to work from home until everything was back to "normal." But for many travel bloggers who explore destinations for a living, it's been a real challenge not having the entire globe as their "office." If you're wondering how travel bloggers are navigating their "new normal" and career goals, you're not alone.
Elite Daily asked a bunch of your favorite bloggers exactly how they're navigating this unprecedented time, and what has changed for them when it comes to career and lifestyle. Surprisingly enough, some noted they've enjoyed slowing down their pace a bit and developing other avenues of their business. Some have found bliss in meditation, new ventures, lifestyle-related content, or polishing their editing skills. Others have used this time to reflect on what they want to do next and how they can take a road trip safely in the future.
Although the world is far from "normal," they're giving themselves time to reflect, appreciate, and adapt. Here's how these nine travel bloggers are working through the pandemic and the changes they are facing in their lives.