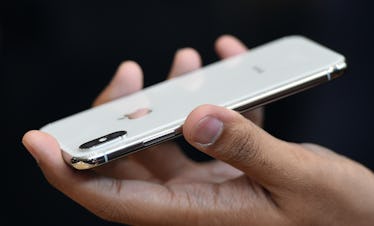 Here's The Best Way To Pre-Order iPhone X If You Want The Device As Soon As Possible
JOSH EDELSON/AFP/Getty Images
Apple considers the iPhone X the "future of the smartphone," and it looks like the future has officially arrived. Within days, the highly coveted device will hit the market, and techies worldwide will rejoice knowing the wait is over. If you're looking to get your hands on one of these babies, here's how to pre-order the iPhone X so you're the first in your squad to snag one (no judgment — you have to get those animojis up and working immediately).
According to an Apple press release, the $1,000 gadget will available to pre-order on Friday, Oct. 27 at 12:01 a.m. PT.
While speaking at a new store in Chicago, the brand's retail chief Angela Ahrendts said heading to the the the app store on Oct. 27 is the best way to secure your order, according to BuzzFeed News. Make sure your app is up to date and you're ready to log on at 12:01. Time is of the essence, techies.
For those who are less inclined to pre-order in the wee hours of the morning, Apple's press release states that the X will be available in more than 55 countries and territories beginning on Nov. 3. Before you breathe a sigh of relief, note the brand's warning: "Stores will have iPhone X available for walk-in customers, who are encouraged to arrive early."
How can you not believe the hype? Just take a look at the iPhone X's amazing features.
The poor, lonely iPhone 8 is a thing of the past... all because the iPhone X completely stole the show. The 8 "does everything better than ever before," according to a Wired review by David Pierce. However, the iPhone X does everything better than that, so it's definitely a bit hard to compete under those circumstances.
For one, the X features state-of-the-art face recognition technology. Gone are the days where you plug in a code or use your finger to identify yourself and gain access into the device. Perhaps even more exciting than new security devices is what you'll unlock when you actually gain access to the phone. There are now animated emojis called animojis and they're a game-changer. Ever wish your favorite emoji could mimic your actions? Your dreams have come true, friends.
Apple certainly doesn't tone down the excitement when describing the new cell. According to a press release, the iPhone X features an "Super Retina display, A11 Bionic chip with neural engine for powerful machine learning, augmented reality and immersive 3D gaming experiences, wireless charging and Face ID, [and] an innovative and secure new way to unlock, authenticate and pay." Sounds pretty spiffy, huh? This is all a very technologically fancy way of saying you're basically holding a small computer in your hands that also happens to make phone calls.
When it comes to actually securing this highly savvy device for yourself, you're going to have to act fast. Some people are predicting shortages. The iPhone X experienced a facial ID snafu, all thanks to components coined "Romeo and Juliet." This is definitely a tragedy of epic proportions because these two parts have the power to delay the release of the highly anticipated phone.
Apple CEO Tim Cook tried to quell our nerves by (unhelpfully) saying, "We'll see what happens," in regards to shortages, according to Business Insider.
In a more reassuring statement, he followed up with, "But we'll be working as hard as possible to make as many as possible," Business Insider further reported. Let's start taking deep breaths, everyone. Time to figure out your plan of attack for the pre-ordering process. Don't try contacting anyone on Oct. 27 at 12:01 a.m. PT — people will be busy.
Check out the entire Gen Why series and other videos on Facebook and the Bustle app across Apple TV, Roku, and Amazon Fire TV.