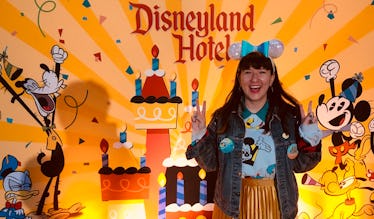 How To Plan An Adult Birthday Party At Disney That's Actually Epic
When Disney's an option, why would you want to celebrate your birthday anywhere else? Thrilling rides, delicious treats, Instagram-worthy backdrops, and that sense of nostalgia make for an unforgettable experience. The only thing you need is to know how to plan an adult birthday party at Disney so you're prepped for the best celebration yet.
Even though Disney is a magical place for kids, adults can have the time of their lives there too. So let me be your guide to having the best birthday bash, because I consider myself quite the pro. I've been to and have hosted a lot of Disney birthdays over the years. I can safely say there's nothing better than enjoying Mickey-shaped ice cream while watching the fireworks to celebrate another journey around the sun.
Whether you're looking for a little adventure, tasty cakes, or toasting to you, Disney has it all. You just need to decide what you want to do and figure out how to get it. It's your birthday, so you shouldn't have to do all the planning by yourself. Consider this list I've assembled as my birthday present to you. Use it to help you plan the ultimate Disney party based on your wishes.