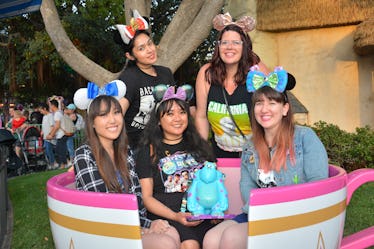 How To Plan A Bachelorette At Disney That's A Bride's Dream Come True
Saying yes when your soulmate pops the question brings you one step closer to your happily ever after. But before you tie the knot, you have your bachelorette party to look forward to. This is a time to celebrate with your best friends, and for any Disney lover, a trip to either Disneyland or Disney World is always a great option. Deciding where to go is just the beginning. Next up, you'll need to know how to plan a bachelorette at Disney.
Disney is not just for families on vacation. The theme parks can be the ultimate destination for any type of bachelorette party you want to have. If you're leaning towards something more relaxing, consider staying at one of the resorts and spending time being pampered at the spa with massages and manicures. If you're down for the adventure, you may want to attempt to check off every ride at the parks in a few days.
Whatever you have in mind, you have the magic of Disney to make your celebration extra special. Just make sure to incorporate at least a few of these super fun ideas into your getaway, and you'll have the time of your life with your bride squad.