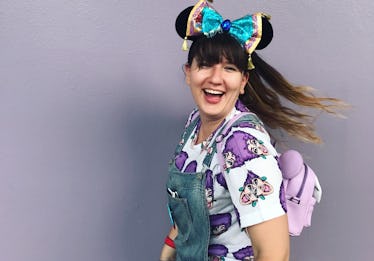 I Go To Disney 12 Times A Year & Mastered What To Bring In My Backpack
The day has finally arrived, and you're heading to the most magical place ever. But before you hit the road, you need to know exactly what to bring to Disney in a backpack. When you plan on spending hours exploring the grounds, posing for pics with your favorite characters, enjoying Mickey-shaped food, and attempting to ride every single ride, you want to make sure you're prepared for anything that may come your way. You also don't want to over-pack and have to lug around a heavy bag. That's where I come in to help you out.
I've been going to the parks since I was a kid, so I consider myself quite the park guru. There have been times when I've packed too much (and too little) in my bag, so now I know what's absolutely necessary. On top of that, you also want everything to fit in a backpack like a Mickey or Minnie Loungefly bag that's useful and Instagram-ready.
If only Mary Poppins' magical bag that had everything you could ever want inside actually existed. But until Disney finds a way to make that dream come true, you should consider following this simple guide of essentials to pack in your backpack.