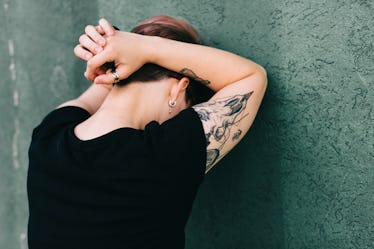 6 Things People Who Don't Get Easily Overwhelmed Do Differently, According To Experts
Imagine you're walking into a full classroom on the first day of the semester. You look right and left, but unfortunately, you can't identify a single familiar face. Picking a corner seat in the last row of desks, you slump in your chair and listen to a professor rattle off assignments that are already due next session, in books you've yet to buy. As someone who practically panics on-demand, I understand if your first instinct is to freak TF out, but you'll benefit more from these kinds of situations if you figure out how to not feel so overwhelmed, rather than immediately give into the anxiety. It's totally normal to feel swamped with emotion and worry once in a while, but it shouldn't be your default mode, if for nothing else but the sake of your mental health.
According to its Oxford Dictionary definition, "overwhelm" is a verb that means to "defeat completely," or to "have an emotional effect on." When you get overwhelmed by tasks or social pressures, assistant professor of emergency medicine Robert Glatter, M.D. tells Elite Daily, you're "bombarded by negative emotions" that will, essentially, interfere with how you're able to function in your daily life. Sounds just peachy, doesn't it?
To quote the ever-so-fabulous 1999 film 10 Things I Hate About You, Gabrielle Union's character, Chastity, asks the real hard-hitting question: "I know you can be overwhelmed, and you can be underwhelmed, but can you ever just be whelmed?"
When you think about it, there really is no middle ground, and those who feel overwhelmed all the time could be at risk of poor mental, as well as physical, health, according to Calm Clinic. Glatter further explains that this drowning sensation can lead to panic attacks, shutting down emotionally, and, if it persists, "can result in depression." In other words, it's a situation of chill or be chilled.
Unfortunately, it's becoming more common to feel overwhelmed on a regular basis. Forbes reported on the results of a global survey issued in 2015, which revealed that 14 percent of a sample of 2,957 participants were recorded as "chronically overwhelmed." It's a very real emotion, and it's natural if you feel it on occasion, but if it's something you're experiencing on a daily, even weekly basis, here are a few things people who don't get easily overwhelmed do on the reg for less stress and more peace of mind.