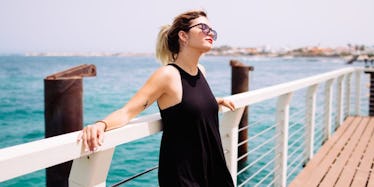 5 Things To Do If You Feel Constantly Overwhelmed By The News
With all the negative things going on in the news and the constant controversy surrounding our new president, it's more important now than ever to find ways to disconnect and unwind.
Anxiety about the future of America has resulted in public anger, which can affect the way you approach your day and how you interact with others.
If not properly addressed, these negative feelings and expressions will not only leave you in a sour mood, but they may also put you at risk for long-term effects on your health.
Take the time to do whatever makes you happy, whether that's exercising, relaxing or unplugging, and make sure to take of your self.
And if you need some help on the relaxing front, below are proven ways to de-stress your life and find some enjoyment:
1. Stay calm with music.
Suzanne Hanser, chair of the music therapy department at the Berklee College of Music in Boston, declared,
Music-making is linked to a number of health benefits for older adults. Research shows that making music can lower blood pressure, decrease heart rate, reduce stress and lessen anxiety and depression. There is also increasing evidence that making music enhances the immunological response, which enables us to fight viruses.
Along with all those amazing benefits, making music can also be used as a "challenging cognitive exercise" that can help your brain combat the effects of aging.
2. Wine down instead of whining.
Jacob Teitelbaum, MD, board certified internist and author of many health and wellness books, stated, "Drinking wine — and alcohol in general — is one of the most time-honored ways for disconnecting our brains at the end of the day."
That's because, as David L Katz, MD, the founding director of Yale University's Prevention Research Center, explained, "[W]ine calms transiently because it is a central nervous system depressant."
So, grab a glass of your favorite type of vino and get ready to relax.
3. Get active.
The Anxiety and Depression Association of America concluded that "regular participation in aerobic exercise has been shown to decrease overall levels of tension, elevate and stabilize mood, improve sleep, and improve self-esteem."
Whether it's a walk outside, a kickboxing class or just an hour of yoga, getting active will take your mind off whatever is bothering you and help boost those feel-good hormones.
4. Play video games.
In a 2009 study by the Annual Review of Cybertherapy and Telemedicine, it was found that gamers who suffered from stress and depression were able to expel their frustration and hostility by playing video games and showed improvement.
This is a healthy and safe way to vent and get rid of any bad energy you have. Think of it as hitting a digital punching bag.
5. Get zen with meditation.
Researchers from Johns Hopkins University in Baltimore, MD suggest that mindful meditation can ease anxiety, depression and pain.
Whether you use an app for guided meditation sessions or do in-person mindfulness training, meditation is perfect for reducing stress.