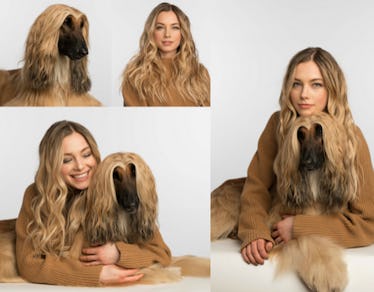 You & Your Dog Can Now Score Matching Blowouts, Thanks To Wag! & Glamsquad
Have you ever walked down the sidewalk and noticed how uncannily similar a four legged friend looks to its owner? Whether it's because of similar hair, eyes, or clothing, it's always a cute, if not a little funny sight. If you've ever wondered how to match your dog in such a noticeable way then you're in luck, because Glamsquad and Wag! Have teamed up on an exciting partnership that will allow you to spend the day getting your curls coiffed alongside your terrier, poodle, bulldog, what have you.
UPDATE: Glamsquad & Wag!'s partnership is an April Fool's joke, which is honestly too bad.
Having lived in New York City, I had heard of Glamsquad before this partnership was announced. It's an on-demand beauty service company that will send hairstylists, nail technicians, and makeup artist to a client's house or place of work in order to "help women and feel their best," according to a press release from the brand. They offer everything from a manicure to a professional blowout (their signature) in the comfort of your own house (or let's be honest, apartment).
Wag!, however, I hadn't heard of, likely because I am not a dog owner myself. Wag! is "an on-demand mobile app that gives dog owners more flexibility to manage everyday life" by allowing them to book trustworthy dog walkers in their local community. It makes sense, then, that two on-demand services would join forces to create entirely new offerings for their pet-owning beauty lovers.
According to a press release, the collaboration "will offer dog lovers and beauty buffs alike the opportunity to book in-home blowouts to match their pooch" in various cities around the country. So if Rex has those beachy waves you've been lusting over lately, there just might be someone who can help you get them. "This partnership, bred out of each company's enthusiasm for convenient, on-demand services, will be launching city by city as the two partners offer new breed-based hairstyle looks."
The first look, called the Poodle Pouf, is a curly style that mimics the pouf of hair left on top of a poodle's head after it's been given a traditional cut. You know the one, with little fluffs left around the poodle's feet. (Très français!) The owner who opts for this cut will get an equally lustrous head of springy curls—they style will work exceptionally well on shorter cuts.
The other cut, the Off-Duty Dog 'Do, on the other hand, is perfect for any owner who has a dog with a long, silky coat — think lhasa apsos, afghan hounds, golden retrievers, and the like. The owner will get a blowout of long, soft waves similar to those of their pooch.
"We're taking the pup - parent relationship to another level. With so many breeds out there, we've created a variety of hairstyles t o match your dog's unique mane," said Glamsquad Creative Director, Giovanni Vaccaro in a statement. "We are excited to be able to connect with puppy parents and bring them even closer with their beloved pets through this partnership," CEO of Glamsquad, Amy Shecter added. I can imagine a two-hour salon session alongside your pooch would bond you in ways you'd never bonded before.
"We're happy to partner with another forward - thinking and dog - loving brand like Glamsquad," said Hilary Schneider, CEO of Wag!. "My two Black Russian Terriers, Sadie and Zoe, have the most incredible texture to their coats. I can't wait to be able to have a stylist match my hair to their manes perfectly."
As ridiculously amazing of an idea as it is (are they actually serious? the jury is out on this one and I plead the fifth), I think the service is quite hilarious in theory. I'm also 99 percent confident my mom would go for it, if given the chance. She's the inspired woman in the neighborhood who wheels around Willie, her ancient dachshund, in a stroller so he can get some fresh air. She loves that dog more than her own children (only sometimes), and I have no doubt she'd be willing to test out a new auburn hair color just to look a bit more like him.