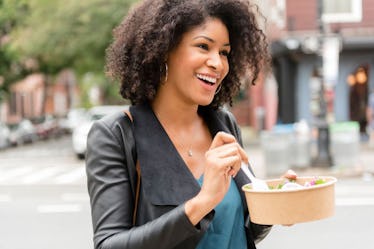 A Saladworks Chef Has The Best Tips For Making Your Greens A Whole Lot Tastier
Salads get a bad rap. Case in point: Whenever someone on TV pulls a sad desk lunch out of the office fridge, it's almost always a wilted salad that they maybe pick at a little bit, before they inevitably throw most of it away. I mean, I get it: The stereotypical salad isn't much more than pale leaves and a measly dressing. Plus, the dish is often associated with dieting, which doesn't exactly make it super appealing. But figuring out how to make salads more interesting doesn't have to be an impossible feat, my friend. An expert is here to salvage disappointing lunches forever with plenty of helpful, easy-to-implement tips.
Katie Cavuto, a Saladworks chef, registered dietitian, and author of the book Whole Cooking and Nutrition, has plenty of tricks up her sleeve for how to transform something that's low-key sad to something that's high-key super tasty. First of all, she tells Elite Daily in an email, it's important to take a look at how fresh your ingredients are. After all, a wilted cucumber is never going to taste as flavorful as a really fresh one. "The most important element to consider when making a salad is the quality of the ingredients," she explains. "Start with fresh, flavorful ingredients that are in season, if possible."
In addition to these helpful tips, always keep in mind that it's important to honor your cravings as you're crafting a spectacular dish, Cavuto explains. If you're feeling chicken nuggets, for example, maybe try throwing a few on top of a nutrient-dense salad for a perfectly tasty combo.