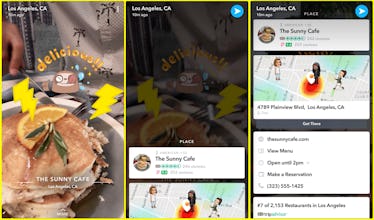 You Can Make Reservations At Your Favorite Spot With Context Cards On Snapchat, Here's How
Snapchat is a great way to introduce yourself to a new city when you're traveling. You can check out the local Snap stories under the "Our Story" section in the app to see what people are doing, and maybe even more importantly, where they're eating. Now, you'll even be able to get your hands on all the delicious eats you see in the app when you learn how to make reservations with Context Cards on Snapchat.
In an email sent to Elite Daily from Snapchat, the company explains that their newest addition to the app is something called Context Cards. Their function is to bring as much information as possible to your fingertips when you come across a location that interests you on a Snap. I know I always get annoyed when I have to get out of Snapchat to look up that cool restaurant I just found, so I am here for this streamlined process.
Snapchat also states in the email that the Context Card update is now available in the U.S., Canada, the UK, Australia, and New Zealand. So, if you're in those locations and operating on iOS or Android, then you can start using Context Cards right away.
Let's get into how to use them, so you can start booking your tables ASAP. You can get into a location's Context Card by swiping up on Snaps that say "More" at the bottom. Those Snaps with the cards will be any Snap tagged with a venue-specific Geofilter or Snaps submitted to public stories in "Our Story."
The first Context Card will contain basic information, such as the name of the location and what kind of establishment it is (e.g. a restaurant). When you're searching a restaurant, for example, information like reviews and ways to make reservations will be available right there within the Snapchat app.
Snapchat is able to provide these kinds of resources thanks to partnering with quite a few companies. When it comes to hooking you up with reservations for the hottest spots, Snapchat tapped OpenTable, Resy, and Booktable by Michelin to make sure that you won't miss out on those must-have pancakes you just saw in a Snap.
So, now when your squad can't decide where to go for dinner, you can hit up Snapchat to find you something delicious looking that even the pickiest eater in your friend group is on board. Say you come across a Snap with the most perfect-looking burger you've ever seen — all you have to do is swipe up, click on the "Make a Reservation" tab in the Context Card, and you'll be biting into your very own juicy burger in no time. It's especially awesome that Snapchat teamed up with three companies that specialize in making restaurant reservations, because that means you'll never miss out on a great meal.
In the email sent from Snapchat to Elite Daily, the company says that this is only the beginning, and that they plan to expand with more partners as they see exactly how the users are using the new Context Cards. As of now, they have six other partners in addition to the reservation partners, so nine total.
Some of the other great partners that Snapchat teamed up with that can help you when choosing a restaurant for your next meal are TripAdvisor and Foursquare. So, when you pull up the Context Card for the latest restaurant to catch your eye, you can check out the reviews to make sure that you're getting exactly what you want. These trusted sites are likely where you go to compare restaurant reviews, anyway, and now you have them right there at your fingertips.
Get ready to start dining in all the Snap-worthy restaurants wherever you are. The best part is that you can do it all from the swipe of a Snap, because Snapchat knows there's no need to add extra steps when you're already hangry.
Check out the entire Gen Why series and other videos on Facebook and the Bustle app across Apple TV, Roku, and Amazon Fire TV.