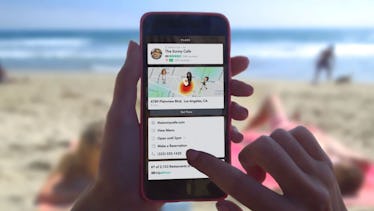 Snapchat's New Context Cards Feature Is About To Make Your Life So Much Easier
Snapchat
Ah, what a time to be alive... and lazy. Social media apps continually roll out new features that take a weight off of our shoulders, and we're certainly grateful for a breather every now and then. People are starting to wonder, "What are context cards on Snapchat?" and there's no denying their convenience and brilliance.
Visual stories now take on a whole new meaning thanks to these bad boys. Once you swipe up on a story that says "More," the launchpad will display reviews, maps, and tips, among other helpful features. Thanks to Snapchat's partnerships with Tripadvisor, Foursquare, OpenTable, and other companies, users will be able to book a restaurant reservation or schedule a ride on Uber or Lyft without leaving the app, all thanks to Context Cards. Pretty awesome, right? It's like so many tools rolled into one, and we're here for it.
Let's break it down: Say you wanted to post a fun Snap story about a funky new ice cream shop or a hip sushi restaurant. Before you actually get to the location and unleash your savvy social media photography skills, you'll have the option to see how other people rated the restaurant. You will also be able to view more stories about these places that are of interest to you. It's pretty convenient and will definitely make a difference with those pictures you're going to post. If you catch a horrible review, maybe it'll change the direction of your Snap story entirely.
Context Cards, we're ready for ya.
Beginning Tuesday, Oct. 10, Snapchat rolled out the feature for users in the U.S., U.K., Canada, Australia, and New Zealand who have iOS 11 or Android. Without having to actually exit the app, all of your needs will be right at your fingertips. Snapchatters aren't the only ones who are excited about this new development — the company's partners are looking forward to unveiling these new Context Cards.
"We are excited to partner with Snapchat to show consumers around the world how TripAdvisor provides travelers with the latest reviews — more than 535 million worldwide — and the lowest prices to discover the best places to stay, eat, and play while at home or on the go," Nicole Brown, TripAdvisor's senior director of partnerships, said in a statement released to Elite Daily.
Likewise, Ben Leventhal the CEO of Resy shared Trip Advisor's sentiment. He said in a statement, "Food is core to how people discover and explore the world, both in real life and online. We're excited to help connect Snapchat's users to the nation's best restaurants."
Naturally, people had a lot to say about Context Cards.
Snapchat is all about listening to consumers' needs. According to Wired, owner Jason Spiegel is taking suggestions very seriously. "I really am trying to do a better job communicating," Spiegel told an audience at the Vanity Fair conference, according to Wired. "You know, we run a survey across our company and overwhelmingly this year it was like, 'We want to hear more from you,' and I'm like, 'Really? All right.'"
Thus, Context Cards were born... and everyone is having a grand 'ol time discovering how to book dinner reservations, hail a ride home, and check out the best place in your nabe to grab some pumpkin spice treats.
For those who are eager to start using this new feature, but also can't wait to see how it develops, you're in luck. The social media app isn't slowing down its work on Context Cards anytime soon. "As we learn more about how to improve Context Cards, we'll be adding more partners and additional information. Stay tuned," Snapchat said in a statement.
Happy Snapping, folks.
Check out the entire Gen Why series and other videos on Facebook and the Bustle app across Apple TV, Roku, and Amazon Fire TV.