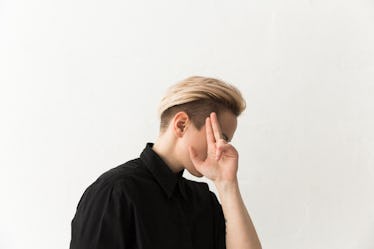 Here's How To Know If Your Partner Is Keeping A Big Secret, Because The Signs Are Easy To Miss
When you're in a relationship, you probably want to know if you're on the same page as your boo. If you're starting to sense that your partner is keeping a big secret, it's easy to feel uneasy. Of course, there is no objective timeline your relationship needs to follow. If your boo isn't ready to share about the challenging things that they've been through, they don't need to until they are. But if you feel as if your partner is actively hiding something big, it may be time for a check in.
"'Secrets' is a very loaded word. As an individual there is no requirement that you tell your partner everything about yourself present and past," Joshua Klapow, Ph.D. Clinical Psychologist and Host of "The Kurre and Klapow Show," tells Elite Daily. "The more important question is why are you choosing to keep it from your partner? There's a difference between not offering every detail of your life and purposely keeping something from your partner."
It can be hard to know when your partner is keeping something under wraps. Dr. Klapow shares how to talk to your partner when you're sensing some skeletons in their closet, and the signs your boo may be keeping something big.