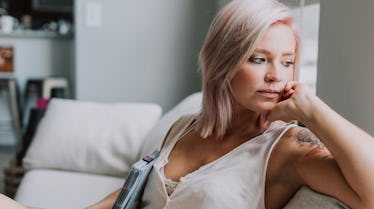 When Your Significant Other Is Hiding Something From You, Here's How You'll Know
Tell me if this sounds familiar: You're going about your business, happily in your relationship, when suddenly there's a subtle... shift. Maybe it's something they say — or don't say — but there's a little tickle in the back of your mind that says something's off. Some instinct, maybe even subconsciously, is setting off alarm bells that your partner isn't being totally forthcoming. In a situation like that, it can be easy to override your gut and decide you're just being paranoid, which is why asking yourself how to know if your partner is hiding something is probably a smart move. This way, you're not tempted to just shrug it off and can actually get down to the bottom of what may or may not be going on with bae.
Now, that's not to say you have to tell each other absolutely everything. As NYC relationship expert and love coach Susan Winter tells Elite Daily, "Each partner is allowed a certain degree of personal privacy. That's healthy and normal in a good relationship." The problem usually has to do with why they feel like they need to keep something from you, she says. "When the partner is hiding something from you, there's a problem," Winter explains. "It means that your mate is fearing your reaction. Hiding information is a protective move. Either your partner fears your reactivity, or they've done something so horrific that you'll (rightly) be upset." All this said, knowing how to spot the signs that something is up and your partner is holding back is very important. Here's what the experts say to be on the lookout for.