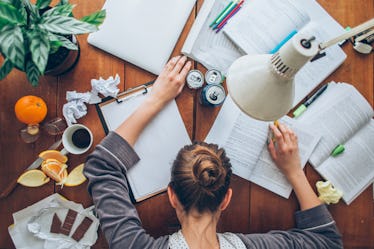 4 Things You Can Do For Your Partner During Finals Week To Lighten Their Load
I miss college. I miss having minimal adult responsibilities, living within walking distance of all of my friends, and drinking beers forever. I also miss eating that weirdly excellent turkey brie panini from the best dining hall. There is one collegiate thing, however, that I do not miss: finals. My college nostalgia does not even apply the Hogwarts-esque library I pulled all-nighters in. Studying is exhausting, time-consuming, and stressful. Finals mean everyone you love is also as grouchy as you are. So it makes sense that you want to help your partner during finals, even if you're in the thick of them as well. But also: Are you a saint?
While caring for your partner is obviously a great thing to want to do, I want to put my mom-hat on for a second: Finals are important, and you should prioritize studying for yours before taking care of your partner. You can be there for them while still getting that 4.0. The week of finals is an extremely stressful time in the semester, and it's very easy to lose sight of anything other than the five tests you have over the next three days, but you can make it through! And so can your partner.
If you want to help your partner out, but you don't know how, a really great place to start your brainstorm is to be self-involved and ask yourself: "What would help me de-stress during finals week?" My personal answer to that is absolutely anything remotely comforting. Whether that's surprising your partner at the library or getting them a full-blown massage, any gesture during finals can serve as a really great way to remember that there are other amazing things in your life, and that finals do have an endpoint. Here are some ideas.