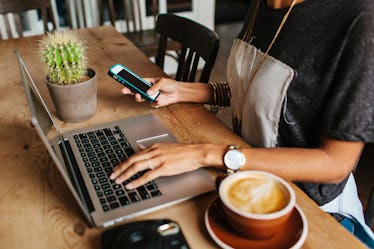 8 Tips For De-Stressing Before A Test Because We Know How Easy It Is To Psych Yourself Out
I have more than a few memories of myself in college looking like a mad scientist, up until 3 a.m., drinking coffee that isn't working anymore, and desperately trying to reread all the assigned texts I for my Lit exam. By the time the test rolled around, the only thing my body was really prepared for was a long nap, and by the time I finished that last question on the exam, I was totally wiped out. Looking back, I really wish I had learned how to de-stress before a test, because it would have saved me a whole lot of struggle, and probably would have really improved my performance on those exams.
I also remember that when people told me to "just relax" before a test, it only made me feel more stressed, because on top of the pressure of studying and learning all the necessary information, I was actually worried about how stressed I was. To say the least, it can be in an inescapable and brutal cycle.
But trust me, while it can feel impossible to reign in your stress when school pressures run high, it's important to remember that stress really doesn't add anything positive to the situation you're in, and won't help you ace the test or slam-dunk that paper you're working on.
So remember to look out for number one, and that your health — both mental and physical — is the most important thing of all. Learning how to de-stress and find some inner calm while you study will have you skating into those exams like a total boss. Here are a few ways to chill out as you prepare for your exam.