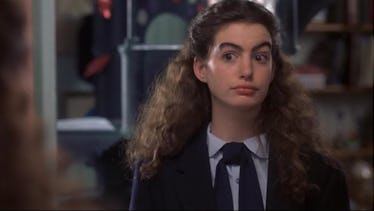 5 Tips To Get Someone You Like To Notice You, Because You Are Enough
BUENA VISTA PICTURES
I think I speak for all us here when I say the scene in the first Princess Diaries, when the popular boy literally doesn't see Anne Hathaway and sits on her, faintly lingers in my brain whenever I have a new crush. From a young age it's common to wonder how to get someone you like to notice you. Whether you're totally in love with your cute coworker or if you've been going to the same coffee place at the same time every week (even thought you don't drink coffee) just to lock eyes with the busboy — knowing how to get your crush's attention can feel everything from daunting to hopeless to totally intimidating.
Of course, you are a shining angel that anyone would be lucky to be with. While movies (like the iconic P-Diaries) may show insane makeovers and all sorts of scheming to get someone's attention — as cheesy as it sounds, to get your crush to notice you, all you have to do is be yourself.
And if you're like, "what the heck does that even mean?," here are five other tips to get your crush's attention (and another reminder to be yourself).